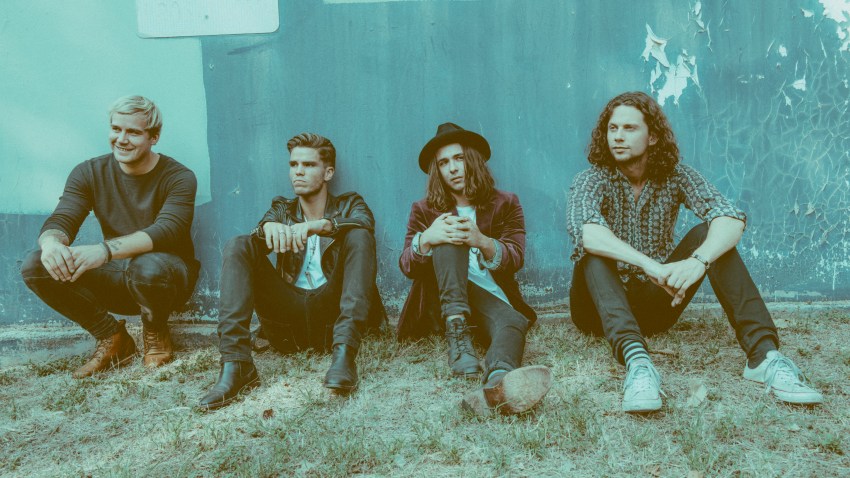 There are so many events happening on Saturday that you might have to pick a few and make the rounds. At the House of Blues, Iceland's Kaleo return. This show was originally booked at Soda Bar, but it sold out so fast that it was quickly moved to the concert hall downtown. Tickets for Soda Bar will be honored at House of Blues. Meanwhile, upstairs at HOB, catch Dreamers and Arkells in the Voodoo Room. At the Casbah on Saturday, I'm cruelly reminded that my high school years are now vintage and retro as Saved By the '90s play a mixed set of '90s music based on popular requests. Elsewhere, Third Man Records presents "the kings of noise," Wolf Eyes at the Hideout. If you're looking for stuff earlier in the day, the Best Coast Beer Fest returns to the Embarcadero and San Diego celebrates St. Patrick's festivities a few days early at Balboa Park.
Saturday, March 12:
Kaleo, Firekid @ House of Blues
Dreamers, Arkells, Karma Killers @ House of Blues' Voodoo Room
Saved By the '90s, DJ Junior the DiscoPunk @ Casbah
Best Coast Beer Fest San Diego 2016 @ Embarcadero Marina Park
36th Annual St. Patrick's Day Parade and Festival @ Balboa Park (9 a.m.-6 p.m.)
Wolf Eyes, Timmy's Organism, Video @ The Hideout
Slaves, Capture the Crown, Myka Relocate, Outline in Color, Conquer Divide @ The Irenic
I See Stars, Chunk No Captain Chunk, Get Scared, Palaye Royale, the White Noise @ Lamppost Warehouse (5444 Napa, all ages, 6 p.m.)
The Soft White Sixties, Decorator, End Thought @ Soda Bar
The Milkcrates DJs @ Bar Pink
6th Annual Beat Farmers Reunion, Rosie Flores @ Belly Up
Feeding the Soul Foundation 6th Birthday Party, featuring Vibrometers, Barnwell Shift and Friends @ Moose Lodge Oceanside (7-10 p.m., info)
The Soul Rebels, Chali 2na, Euphoria Brass Band @ Music Box
Grampa Drew's Flim Flam Revue @ Whistle Stop (5 p.m.)
Booty Bassment @ Whistle Stop (9 p.m.)
Yanni @ San Diego Civic Theatre
Pier Pressure 2016 Launch Party @ Hornblower Inspiration
Best Supporting Actress, Super Buffet, Future Age @ Mother's Saloon
Teada ReAwakening @ AMSD
Love Ethic, Horsefly, Let's Break Up @ The Bancroft
Joshua White with Marshall Hawkins @ Dizzy's
Born of Osiris, Veil of Maya, After the Burial, Erra, Bad Omens @ SOMA
The Bad Vibes, Rever, Down and Outlaws @ Tower Bar
Full Moon Feaver (Tom Petty tribute) @ Winston's (5-8 p.m.)
The Devastators, Naked Funk @ Winston's
The Dogs, Dirty Eyes, Dr Boogie @ Til-Two Club
Will Pierce Jazz @ Lestat's
Songwriter Showcase @ Java Joe's
Jason Waterfalls, Abjo, Julz @ El Dorado
World of Pain (record release), CDC, Hammerfist, These Streets, Colossal & MADD Crew @ Che Cafe
Thirty 30, Dona Nova, Trelic @ The Merrow
Larry Gatlin & the Gatlin Brothers @ Sycuan
The Gold Standard @ 710 Beach Club
Detroit Underground @ Tio Leo's
The Cadillac Wreckers @ Humphrey's Backstage Live (5 p.m.)
Rising Star @ Humphrey's Backstage Live (9 p.m.)
Brett Bodley @ Fluxx
Tritonal @ Omnia
MIchael Calfan @ Bang Bang
No Metamorphucksgiven/Eternal Preparty with Jason Blackmore @ Kava Lounge
Sandollar, DJ Greent @ Gallagher's Irish Pub
G Jones & STWO, Carlo, Datphat, Galangsta, Flowtyte, Dhash @ Spin
Rosemary Bystrak is the publicist for the Casbah, the content manager for DoSD, and writes about the San Diego music scene, events and general musings about life in San Diego on San Diego: Dialed In. Follow her updates on Twitter or contact her directly.