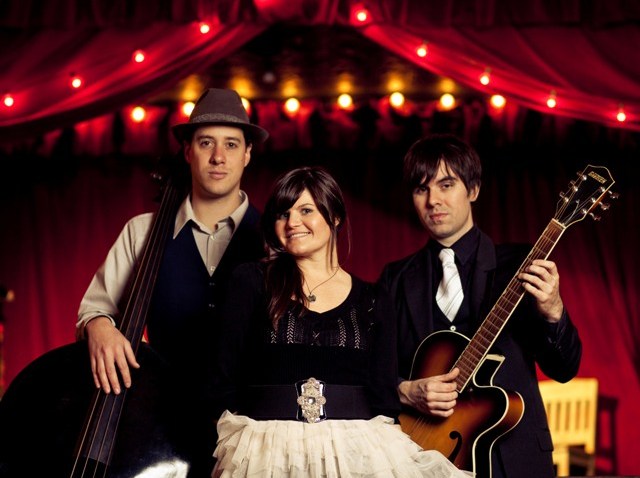 A national tour brought April Smith and the Great Picture Show to the Casbah recently with Pennsylvania's Langhorne Slim; now she returns to our fair city for a more intimate show at Lestat's.
Smith's performances are a throwback to old school cabaret, the music is sassy and April commands the audiences attention every time she plays. April will be joined by Jenny Owens Young, also no stranger to San Diego, touring through more than a few times in the past couple years, with her own twangy stylings.
Wednesday, June 16:
April Smith and the Great Picture Show, Jenny Owens Young, William Tell @ Lestat's
Writer @ Lux Art Institute (21 plus, free, 7-9 p.m.)
Rooney, the Young Veins, Black Gold @ Sound Wave
Abe Vigoda, All Saints Day, Heavy Hawaii @ Casbah
The Modlins, Hot TV, Rooftop Vigilantes @ Soda Bar
Bullet for Snowfox, Bryan Minus and the Disconnect, Don't Bore Nina @ Beauty Bar
Nena Anderson Jazz Trio @ Bar Pink
Rock 105.3 and 101 KGB presents Steel Panther @ House of Blues
Dennis DeYoung @ San Diego County Fair, Heineken Grandstand Stage
Foghat @ San Diego County Fair, Paddock Stage
Wendy Bailey @ Second Wind Navajo
Venice @ Green Flash Concert Series, Birch Aquarium
Shining Through, Mothlight, Cousins, Meseta @ Che Cafe
Playing for Change, featuring Mohammed Alidu, Clarence Bekker, Peter Bunetta, Grandpa Elliott, Mermans Kenkosenki, Reggie McBridge, Jason Tamba, Louis Mhlanga and Titi Tsira @ Belly Up
Tommy Emmanuel, Chase Foster @ Anthology
The Prids, Blessure Grave, Soft Tags, Mrs. Magician @ Radio Room
Rookwood, DJ Kevin Flynn @ Ruby Room
Live Wednesday presents Agua Dulce @ U-31
Heavy Glow, Whitman, Tommy Graf @ Tin Can
El Monte Slim @ Riviera Supper Club
Raise the Guns, Comfort In Rage @ Winston's
The Soul Persuaders @ Humphreys Backstage Live
Mz Kitty, Daygo Girls, She Wrote It for You, Tish Babe', Mz Chief, Daddy Rich, Problumz, the Nutty Buddies @ Dreamstreet Live
Frankie D and the Funk Natra @ The Kraken
V Child, Robin Dean Salmon @ Stage Saloon
Gilbert Castellanosw/ The New Latin Jazz Quintet @ El Camino
Bayou Brothers @ Spreckels Organ Pavilion (6:15 p.m.)
Rosemary Bystrak writes about the San Diego music scene, events, and sometimes whatever creeps into her head on her music blog San Diego: Dialed In. Check it for even more listings.Follow her updates at twitter.com/sddialedin or submit your music listings.