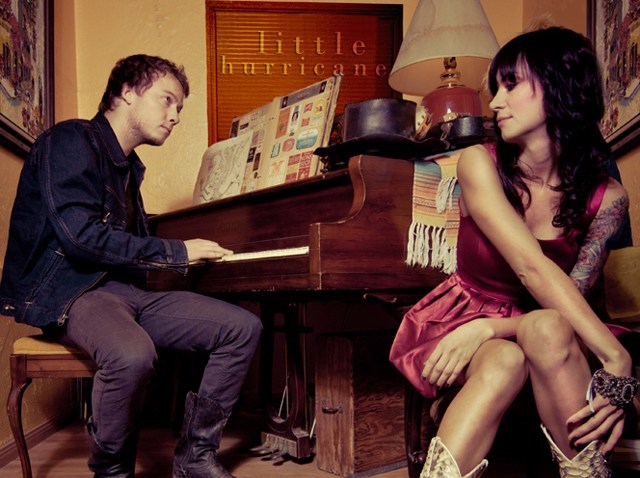 Oh, man, Saturday is a doozy in San Diego. Just a few years ago, everyone was lamenting the loss of Street Scene and how someone should bring it back. Sadly, that hasn't happened, but what did happen is that a lot of different people and entities adopted a DIY attitude and made their own festivals happen. I'm not gonna lie, reviews of the original Oysterfest weren't exactly glowing, but after a few years, the organizers are on point, got the right people involved to handle music booking and staffing, and others to align all the concessions and oyster chefs for what is certain to be an incredible day on the San Diego Waterfront. Thievery Corporation headline the whole shebang, but with a solid lineup of performers all day long -- including Little Hurricane, who haven't played their hometown in ages -- this is going to be a great festival. Around town, another budding festival, Oasis at Silo, takes place at Maker's Quarter. By night, if you still have an itch for music, the Walkmen's Hamilton Leithauser plays at Casbah, Ceremony is at Legends Records, and the Preservation Hall Jazz Band is at the Belly Up.
Saturday, June 13:
Oysterfest, featuring Thievery Corporation, Little Hurricane, the Young Wild, Birdy Bardot, Through the Roots, Rebecca Jade & the Cold Fact, DJ Mikey Beats, DJ Artistic, DJ Eddie Cutless, DJ Who& Paulo De Rosa, DJ Fishfonics @ Embarcadero Marina Park North
Oasis at Silo, featuring the Gaslamp Killer, Penguin Prison, Moving Units, jackLNDN @ Silo at Maker's Quarter
Hamilton Leithauser, Jack and Eliza @ Casbah
Preservation Hall Jazz Band @ Belly Up
Michael Malarkey, Jara @ Soda Bar
Colbie Caillat @ Grandstand Stage, San Diego County Fair
Rich's After Dark @ Rock On Concert Series, San Diego County Fair
Jennifer Corday @ Paddock Series, San Diego County Fair
The MilkCrates DJs @ Bar Pink
Lower Class Brats & Zero Boys, Potato Pirates, Rat City Riot @ Til-Two Club
Ceremony, Tony Molina, Uniform, Cursed Graves @ Legend Records
It's a Beautiful Day @ AMSD Concerts
Irving Flores @ Dizzy's
Geneva Bedlam, @ The Balboa
Jedi Mind Tricks @ Observatory North Park
Cardio Kazan @ Epicentre
Lenka, Nick Howard @ Voodoo Room, House of Blues
Adal Ramones @ House of Blues
Tribe of Kings presents the Wheel Up @ The Hideout
Convulsic, Goodthinkin, Dfect, Alex Villalobos @ SOMA
Bingo Players @ Omnia
1349, Necrophagia, Vattnet Viskar, Helsott, Luna Occulta, the Early Graves @ Brick By Brick
Bushwalla @ Java Joe's
Booty Bassment, with Dmitri and Rob @ Whistle Stop
MXMS, Name the Band, Frankie, Colleen D'Agostino @ The Merrow
Quel Bordel @ The Bancroft
DJ Bodyrawk @ U-31
Peter Hall @ Croce's Park West (12pm)
Gilbert Castellanos & the Park West Ensemble @ Croce's Park West (7 p.m.)
Sara Petite @ Humphrey's Backstage Live (5 p.m.)
Rising Star @ Humphrey's Backstage Live (9 p.m.)
Worriers, Caves, Santa Ana Knights @ Tower Bar
Dazed and Confused @ Winston's
Zero Boys, Lower Class Brats, Potato Pirates @ Til-Two Club
Marrakesh with Sid Vicious @ Fluxx
EDX @ Bassmnt
145th Street @ 98 Bottles
Ego Trip: Oasis in the Hourglass, featuring Chrome Sparks, Desert Dwellers, Lonely Boy, Nico Luminous, Kevin Anderson @ Spin
Marauk and Friends, DJ Chelu @ Gallagher's Irish Pub
Safety Orange @ Boar Cross'n
Brothers Gow, the Moves @ 710 Beach Club
Rosemary Bystrak is the publicist for the Casbah and writes about the San Diego music scene, events and general musings about life in San Diego on San Diego: Dialed In. Follow her updates on Twitter or contact her directly.