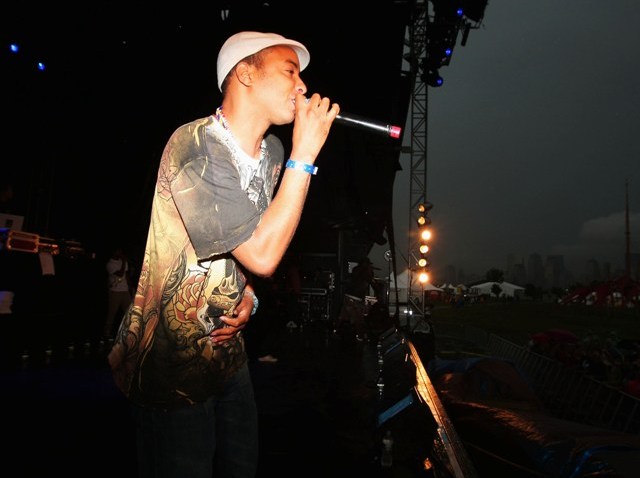 I'm not exactly known for being well-versed in the world of hip-hop, but there are certain groups that had a huge impact on my life back in the day. The Pharcyde were one of those groups. Their debut record, Bizarre Ride To, was on constant rotation at home, in the car and at every party. The sound was unique and was a step away from the prevailing gangsta rap of the time. I've had the opportunity to see them perform, as well as some solo shows with various members, and tonight the group will be onstage with a live band, proving that they're still crossing boundaries.
If hip-hop isn't your thing, perhaps some hardcore over at the Casbah, some punk over at Brick By Brick, and plenty of other great options among Soda Bar, Whistle Stop, Tin Can and beyond.
Friday, Jan. 7:
The Pharcyde (with live band) @ 4th & B -- read Scott McDonald's preview here
The Long and Short of It, Retox, Grand Tarantula, Scales, Drug Wars @ Casbah
Casbah Presents TSOL, Youth Brigade, Rats Eyes @ Brick By Brick
Foster the People, Long Live Logos, the Steelwells, DJ Church Hustler @ Soda Bar
Man vs Man, Nuclear Tomorrow, Vietnam Hardcore, Some Kind of Nightmare @ The Shakedown
FMLY Tour, featuring Birthdays, Truman Peyote, Emily Reo, Jeans Wilder, Kevin Costner Saves the World, Phillip Seymour Hoffman @ Tin Can
Jesse LaMonaca and the Dime Novels @ The Marble Room
The Fairmounts, DJ SK @ Whistle Stop
Syndicate, Roswell That Ends Well @ Til Two Club
Heavy Glow, Armada, Space Nature @ Eleven
40 Oz to Freedom, Tommy Dubs, Irieside @ Belly Up
Unwynd, Stage Kids, Save Amos, Misc Ailments @ Ruby Room
The Western Set @ Riviera
No Age, Protect Me, Rene Hell, Heavy Hawaii @ Che Cafe
Mike Hood Band, the Merry Way @ Lestat's
Agua Dulce, Cumbia Mechin @ Winston's
Stick Figure, Fayuca @ 710 Beach Club
Atomic Groove @ Belly Up (Happy hour 5:30 p.m.)
January Lights, THELADYthetiger, Oversoul, Make It Last Kid, Chuck and the Mimes, Scarlett Avenue @ Epicentre
In Every Breath, Under the Stone (CD release), Daemos, Despite the Wolves, One Theory @ Soma
In Motion Trio +2, Zongo Junction, Turkuaz @ Dizzy's (Culy Warehouse, 338 7th Ave.)
Hip Replacements @ Humphreys Backstage Lounge (5-7 p.m.)
Coco Montoya @ Humphreys Backstage Lounge (9 p.m.)
The Sidekicks Duo @ Donovan's Circle of Fifths (5:30-8:30 p.m.)
Fish and the Seaweeds @ Donovan's Circle of Fifths (9 p.m.)
Tower of Power @ Viejas Dreamcatcher
923/Stage re-grand opening @ Stage Saloon
Zone 4 @ El Cajon Grand
Richard Vission @ Voyeur
Hickies and Dry Humps, featuring Buba Cortez, Kid Wonder, Jay Dread, Jeremiah (Turbo Teen) @ El Dorado
Junior theDISCOpunk @ El Camino
Grand Opening Party. featuring Erick Diaz @ The Lincoln Room
Winter Sound, featuring Lucky J, Impera, Nomad and Bala @ Kava Lounge
Moonshake, featuring Mark E Quark, Monchi Machino @ Kadan
Beatnik and Mr. Mention @ The Office
Craig Smoove @ Fluxx
The Rock Bastards, BulletBoys @ Ramona Mainstage
Ax Plays Mozart @ Copley Symphony Hall
Rosemary Bystrak writes about the San Diego music scene, events, and sometimes whatever creeps into her head on her music blog San Diego: Dialed In. Check it for even more listings. She also provides social media content for the Casbah. Follow her updates at twitter.com/sddialedin or submit your music listings.