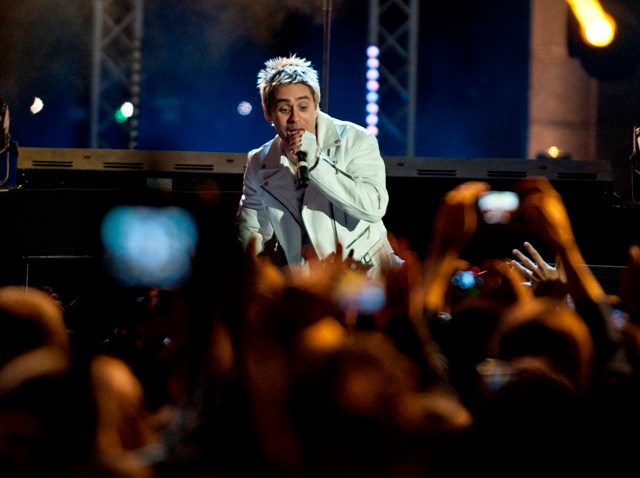 How about a little rock en espanol to get you through your Hump Day? Tonight, Mexico City's Hello Seahorse performs at the Casbah, and if you missed their show at Bar Pink back in August, tonight's your chance for redemption. I promise you won't be disappointed. The band is on the Latin Grammy powerhouse label Nacional Records, so if you're a fan of anybody on its roster, Hello Seahorse should prove to be a new favorite.
Around town, you might wanna catch Jordan Catalano, errr, Jared Leto and 30 Seconds to Mars over at the House of Blues, baseball player Rod Piazza shows off his harp skills up at the Belly Up, and Diane Schuur will blow the lid off of Anthology. Though Analog is relatively new to the live music scene, it's got a solid lineup tonight, too, so there's absolutely no excuse to stay home.
Wednesday January 12:
Hello Seahorse, Madame Recamier @ Casbah
Estrogen Highs, F* Yeah, the Stalins of Sound, Dimples @ Soda Bar
Mark Hummel's Blues Harmonica Blowout: Rod & Honey Piazza, Sugar Blue, Billy Branch, Mitch Kashmar @ Belly Up
30 Seconds to Mars @ House of Blues
Diane Schuur @ Anthology
Shapes of Future Frames, Teddy Fantastico, DJ Tomas Kevin Bohan @ Analog
That 1 Guy @ Hensley's Flying Elephant
Bruisecaster, Paper Forest, Alti Veri @ Park Gallery
Radio Silence, Motion to Sever, DJ Snatch Boogie @ The Office
Thee 90 Proof Pissers @ Riviera Supper Club
A Night of Belly Dancers and Music @ Lestat's
Matterhorn, Lightmusic, Uniform Victor @ Tin Can
Have A Cigar: The Pink Floyd Experience @ The Saloon (Encinitas)
Spinn Cycle, featuring DJ HighDro @ Ruby Room
Safety Orange @ Hennessey's Gaslamp
Jesse Davis @ Humphreys Backstage Live
Club Kingston with South Town Generals, DJ Carlos Culture @ Winston's
Blue Largo @ Patrick's II
Acoustic Fooks @ Dublin Square
Rob Bondurant @ Coyote Bar & Grill
Gilbert Castellanos with the New Latin Jazz Quintet @ El Camino
Sleepwalking with DJs Jeff & Michelle @ Whistle Stop
Wednesday Night Shakedown @ Henry's Pub
Jeff Moore and the Witchdoctors @ The Kraken
Knight Vision @ Club Kadan
Sue Palmer @ Croce's
Firehouse Swing Night @ Queen Bee's
Karaoke @ Chico Club
Tim Wray @ Cheers (Ramona)
Ron's Duo @ McP's Irish Pub
Sezio Night, featuring ADDJ @ Starlite
Mad Traffic @ Skybox Bar & Grill
5toMidnight, Cory Wilken's Band @ Second Wind Navajo
Rosemary Bystrak writes about the San Diego music scene, events, and sometimes whatever creeps into her head on her music blog San Diego: Dialed In. Check it for even more listings. She also provides social media content for the Casbah. Follow her updates at twitter.com/sddialedin or submit your music listings.