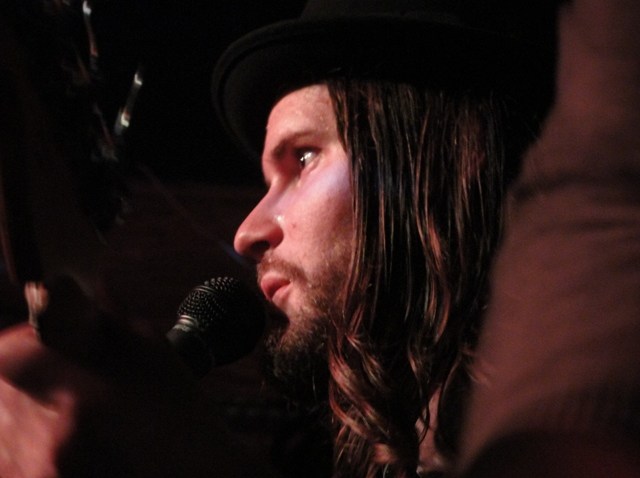 I heard there's some kind of sporting contest happening today? I've heard it's kind of a big deal and the whole wide world stops turning because of it?
Well, you watch your little game. I'll be gearing up to see Ryan Bingham and the Dead Horses at the House of Blues. I've seen the Oscar winner at least three times, but I was working for the band slinging T-shirts, so this will be my first time seeing them in a proper room with proper lights, and hopefully he still has that post-Oscar glow (with a little help from Jeff Bridges in Crazy Heart). Even more exciting for all of us fans of local music is that the Silent Comedy has been building their local following steadily, and after working really hard touring up and down the West Coast multiple times, they were picked up to do the full leg of Bingham's tour, so this is a super special show for the band being in their hometown before a long and arduous tour schedule that runs right in to South By Southwest.
Go ahead. Watch your game. Absorb all the marketing being fed to you. When the game is done, take a disco nap and get down to the House of Blues.
Sunday, February 6:
Ryan Bingham and the Dead Horses, the Silent Comedy @ House of Blues
Reverend Horton Heat, Luis and the Wildfires @ Belly Up
Pants Karaoke with Scotty Hoopes @ Eleven
Audacity, Tijuana Panthers, Neverever, Dreamboat @ Tin Can
David Garrett @ Balboa Theatre
Jordan Reimer, Abigail Reimer, Terrence Brian @ Lestat's
The Pass, Marvelous Toy, Gaux Nu Vaux @ Soda Bar
Tribe of Kings/Reggae Vibes @ U-31
Drew Davidsen @ Humphreys Backstage Lounge Brunch (10 a.m. to 2 p.m.)
Drew Davidsen @ Humphreys Backstage Lounge (8 p.m.)
Bohemian Rhapsody (open-mic rap) @ Kadan
Konectwerkz @ Kava Lounge
San Diego Opera Presents Puccini's Turandot @ San Diego Civic Theatre (2 p.m.)
Rosemary Bystrak writes about the San Diego music scene, events, and sometimes whatever creeps into her head on her music blog San Diego: Dialed In. Check it for even more listings. She also provides social media content for the Casbah. Follow her updates at twitter.com/sddialedin or submit your music listings.