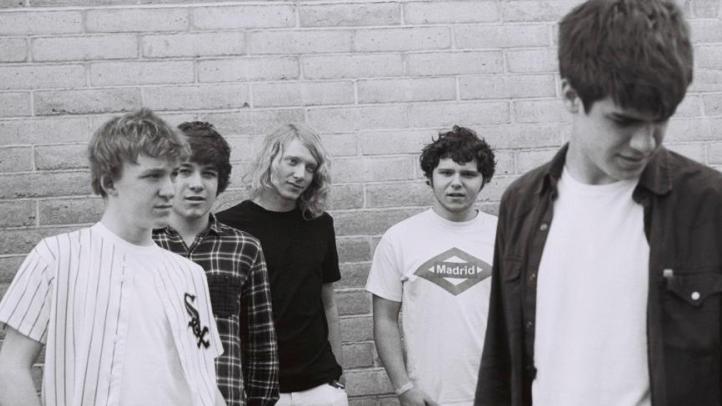 I have very strong feelings about how bands should behave at shows. It is my feeling that the performance is only a fraction of the appearance. Time should also be spent, especially at small venues like Soda Bar or the Casbah, "shaking hands and kissing babies" as they say in politics. It leaves a huge impression on the audience if a band takes the time to meet and greet fans before and after shows.
Occasionally, however, there are exceptions to this rule. This Thursday at the Casbah would be one of those nights, when the Orwells of Elmhurst, Ill. roll through town. You see, the band is made up of Mario, Grant, Dominick and Matt, and they are all only 17 years old, which means they'll be waiting outside before their performance and quickly ushered out when they're done.
The high schoolers perform what could fall in the vein of punk or garage, and their songs are about things one would expect from high school boys. The question will be whether they can pull off their sound live. By the grit of their hit, "Mallrats (La La La)," my guess is they'll do just fine. If you want autographs, however, you'll have to meet the band at their van.
Thursday, Feb, 21:
The Orwells, Pangea, the New Kinetics @ Casbah
Mary Jane's Underground with Low Volts, Dirty Sirens @ Mary Jane's, Hard Rock Hotel
Warm Soda, Teenage Burritos, Buddy Banter, Shiva Trash @ Soda Bar
Harsh Toke, Ninja Love, Wild Wild Wets @ Belly Up
Anabell & the Mrs, Leanna May & the Matadors, the Flowerthief @ Tin Can
Mostly Sunny, Privet, DA + J, Julia Stine @ The Griffin
A Mayfield Affair, Woolly Mammal @ Lestat's
The Dark Side presents Ghost Beach, Bangladesh, Camron (DJ), Steve McQueen (DJ set) @ El Dorado
Electric Healing Sound, O.P.P @ Whistle Stop
ArtPower presents Meklit Hadero @ The Loft
Madford @ Riviera Supper Club
Moonlight Serenade Orchestra @ The Lucky Star Restaurant (54th & University)
RIPS Entertainment Presents @ Ruby Room
Brothers Gow @ Winston's
Hargo @ Bar Pink
EDM with Cosmic Gate @ Fluxx
Gilbert Castellanos & the New Latin Jazz Quintet @ Croce's
Ian Tordella Trio @ Seven Grand
Piso Mojado, DJ Dibo, Chris Renzulli, Jesse La Due @ Kava Lounge
Sound Doctors @ Humphreys Backstage Live
Kayla Hope @ Tiki House
Hard Fall Hearts, Reckless Ones, Screamin' Rebel Angels @ Flying Elephant Pub & Grill
Tiffany Jane & the Kicks, From Chaos and Heaven, Brooke Nicole Telarico, Joshua Taylor, Days to Change, CJ Hutchins Band @ Queen Bee's
Missy Andersen @ The Marble Room
Room Downstairs, DJ Reefah @ Gallagher's Pub
DJ Roger Lane & Capt. Blackie @ Til-Two Club
The Midas Touch, Decompression, Dive Bomber @ Boar Cross'n
Clay Colton @ Coyote Bar & Grill
DD & The Down Beats @ Patrick's Gaslamp Pub
Harmony Road @ McP's Irish Pub
Live Band Karaoke @ 710 Beach Club
Rosemary Bystrak writes about the San Diego music scene, events and general musings about life in San Diego on San Diego: Dialed In. Follow her updates on Twitter or contact her directly.