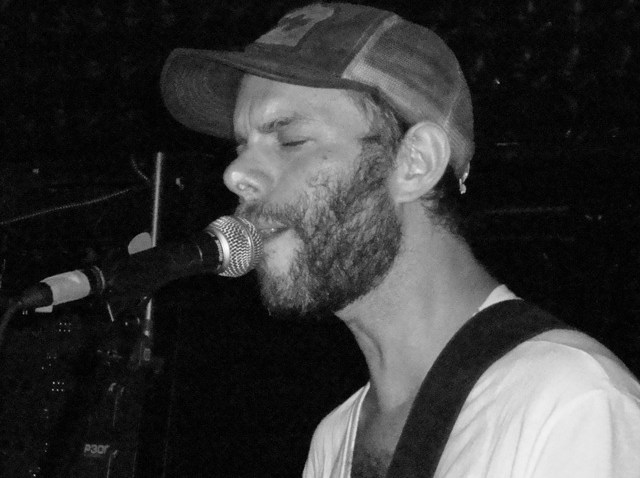 If you work a "real" job, hopefully you have tomorrow off. And if you're like me and your employment is almost entirely online (or in your head, whatever the case may be), today is as good as any to catch a show. I'll be checking out Lucero, and hopefully I can actually take some photos so I don't have to rely on my old collection, like this one from about three years ago. Either way, it has been a pleasure to see this tireless band time and time again, working through tours with barely an audience to a show like tonight, that sold out almost as soon as it was announced. It's rare that a band is even allowed to veer from their regularly scheduled programming, in this case touring with Social Distortion (which also sold out rather swiftly), but Lucero pulled strings because they're a band with a loyal following and in return, continue to be loyal to the fans that are slowly but surely putting them in the annals of music history as one of the greats, even if it's been a long road to get where they are now. The show's sold out, deservedly so. Those of us there will be sure to tell you how amazing it will surely be.
Sunday, February 20:
Lucero, Blackout Party, LowVolts @ Casbah (Sold Out)
Cheap Curls (members of Dum Dum Girls), Colleen Green, DJs Mario Orduno & Jeff Graves @ Tower Bar
80s Heat, President's Day Weekend At Bernie's @ Belly Up
Linkin Park, The Prodigy @ Viejas Arena, SDSU
Michael Beach (of Electric Jellyfish), Shiva Trash, Conceptus @ Soda Bar
Spencer Fox Walks...again feat. Combo Libertad, Los Beautiful Beasts @ Belly Up (3 pm)
Echo Revolution, The Necronauts @ Ruby Room
The Suzan, Lights On, DJ C Wizard @ Tin Can
FM 94/9 Presents Social Distortion @ House of Blues (Sold Out)
Hardcore Matinee feat. The Sharp Objects, Dead on the Wire, The Complaints @ The Shakedown
The Ferocious Few, The Bloody Mary Bastards @ Bar Pink
International Pop Overthrow Gayle Skidmore, Dave Rave, The Shambles, SMASH Fashion, The Bigfellas, Sofa City Sweetheart, Normandie Wilson @ O'Connell's
Trivia with Robert Pouder followed by Pants Karaoke @ Eleven
The Robin Henkel Band @ Lestat's
Mark Fischer @ Donovan's Circle of Fifths (6:30- 9:30 pm)
Jose Sinatra's OB-O-ke @ Winston's
Tribe of Kings/Reggae Vibes @ U-31
Dresser, JD Parran woodwinds, Earl Howard alto sax & electronics, singer Susan Narucki, & surprise guests @ Dizzy's (San Diego Wine & Culinary Center)
Stelita @ Humphrey's Backstage Lounge Brunch (10a-2p)
President's Day Jazz Festival Glen Fisher, Reggie Smith, Stelita, Trena and more @ Humphrey's Backstage Lounge (6pm)
Dreg's One, Patience, Boom & J Fame, Caesar Sanchez, Smooth Dru, DJ Agent Smith @ Kava Lounge
Boom Culture, DJ Chelu @ Gallagher's
Calvin Harris, Steve Aoki, Etiennee de Crecy, Burns, Peacetreaty, Deth Hertz @ 4th & B
Supreme La Rock, DJ Artistic, Beatnick, Ikah Love @ El Dorado
Bohemian Rhapsody open mic rap @ Kadan
Reggae Sunday @ Spin
Music: Mind, Body, and Soul @ Copley Symphony Hall
The Wizard of Oz @ San Diego Civic Theatre
Janos Negyesy & Friends @ California Center for the Arts, Escondido (Matinee show)
Rosemary Bystrak writes about the San Diego music scene, events, and sometimes whatever creeps into her head on her music blog San Diego: Dialed In. Check it for even more listings. She also provides social media content for the Casbah. Follow her updates on Twitter or submit your music listings.