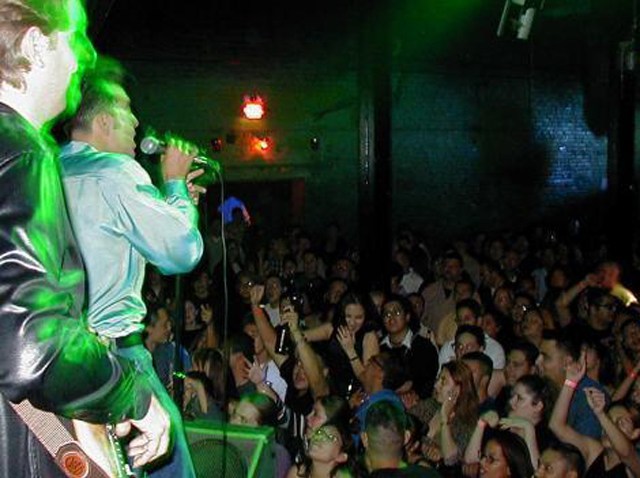 If you love reggae, Saturday will be your night, with plenty of music around town to ease into your chill vibe. If you're not a fan, however, you can still find something to suit your fancy. The Sweet and Tender Hooligans return to the Casbah for their annual night of classics by the Smiths and Morrissey. Zongo Junction promise a party-good time with their Afrobeat jams at Soda Bar, and Bar Pink features two Requiemme artists, Maren Parusel and Hills Like Elephants. There's plenty of great tunes around town, so be sure to get out and enjoy the last weekend of 2012.
Saturday, December 29:
Sweet and Tender Hooligans, Really Idol @ Casbah
Zongo Junction, In Motion Collective, Snuffaluffagus @ Soda Bar
C. Money & the Players Inc., with Agent 22 and Gadfly @ Winstons
The Dazz Band @ Anthology
Requiemme Showcase, featuring Maren Parusel and Hills Like Elephants @ Bar Pink
Vokab Kompany @ Belly Up
On Decent, Rammoth, Sinner's Rage, Her Bed of Thornes @ Brick By Brick
Gilbert Castellanos @ Dizzy's
Slipping Into Darkness, Tar Halos, Harshe Toke, Plant Tribe @ Eleven
Andreas Moe @ Fluxx
Almost Islanders @ Gallagher's Irish Pub
Aaron Bowen, Heather Nation, Raelee Nikole @ Lestats
Piano Man John Foltz @ Marble Room
Gates, He Is the Painter, Lightning Starts Fire, Overboard Farewell, Jara, Fight the future @ Soma
King Legend, Euphoria Brass Band @ The Griffin
Requiem for the Rockets, Black Cassette, Duping the Public @ The Tin Can
Rebelution/Expendables @ House Of Blues
Rosemary Bystrak writes about the San Diego music scene, events and general musings about life in San Diego on San Diego: Dialed In. Follow her updates on Twitter or contact her directly.