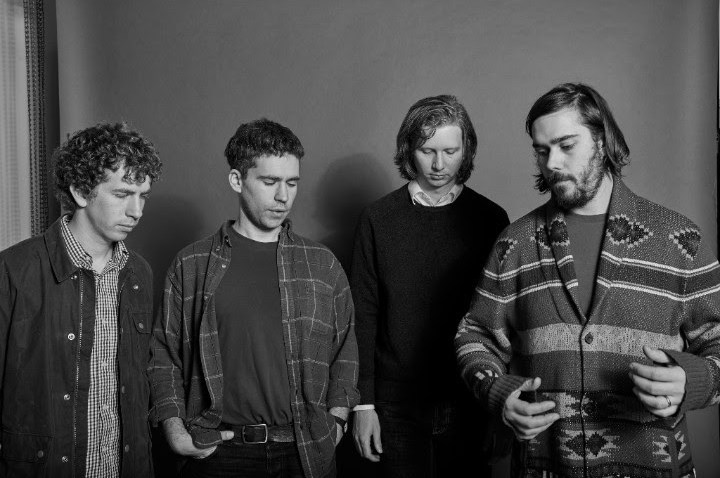 I have been waiting for Friday since Sunday. Honestly, some weeks are better than others, amiright? But it isn't only because the work week killed me, but because there are so many amazing shows tonight. Gregory Alan Isakov at the Belly Up is already sold out, but with Parquet Courts at the Irenic, Brandi Carlile and Old Crow Medicine Show at Open Air Theatre, and Futurebirds at Soda Bar, tonight is going to be one of those amazing nights with a nearly full moon to inspire your night. I have to give a wholehearted and deeply felt shout out, however, to Chica Diabla, who are both releasing a record and retiring as a band. In the ultimate act of bravery, vocalist Elizabeth Borg, suffering stage 4 brain cancer, will perform among family, friends, and as an inspiration for anyone with cancer or touched by cancer to fight with everything you have until the end.
Friday, Aug. 19:
Gregory Alan Isakov, Jolie Holland @ Belly Up (SOLD OUT)
Parquet Courts, Girl Band @ The Irenic
Brandi Carlile, Old Crow Medicine Show @ Cal Coast Credit Union Open Air Theatre at SDSU
Futurebirds, the Liquorsmiths, Ben Allen @ Soda Bar
Thievery Corporation @ Del Mar Race Track
Chica Diabla (Record Release), the Touchies, Mittens, Chamber Sixx @ Casbah
Elvis Depressedly, Teen Suicide, Nicole Dollanganger @ Voodoo Room, House of Blues
Melissa Etheridge, Pat Benatar & Neil Giraldo @ Pechanga Resort & Casino
Summergrass Bluegrass Festival @ Antique Gas & Steam Engine Museum, Inc., Vista
Juan Gabriel @ Valley View Casino Center
The Used, New Language @ The Observatory North Park
The Fab Four: The Ultimate Tribute @ Humphreys Concerts By The Bay
Moon w/ DJ @Large @ Bar Pink
Pato Banton, Southtown Generals @ Music Box
Atomic Groove Bad Mom's Nite Out @ Belly Up (happy hour, 5 p.m.)
Wild Mick Brown, Deeper Purple, Monsters of Rock, RDG @ Brick By Brick
Diane Coffee, Waterstrider, Big Bloom @ The Hideout
F---ing in the Bushes with Dan Sant and Rob Moran @ Whistle Stop
Jazz Jam Sessions @ California Center for the Arts, Escondido
Lion Bold Records @ Lestat's
The Zicas @ Java Joe's
Breakthru Entertainment @ House of Blues
Castle, Supersonic Dragon Wagon, Caustic Casanova, Bosswitch @ The Merrow
Paleons (OR), Plant Tribe, Bloody Mary Bastards, Nebula Drag @ The Bancroft
Reina Mystique @ 710 Beach Club (5-8 p.m.)
Split Finger, Seedheads @ 710 Beach Club
With Age, Aure, the Montell Jordans, Refuse, Taliband, Ignant Benches @ SOMA
Funk's Most Wanted @ Tio Leo's
Audacity, VHS, Teach Me, Cheeks @ Ché Café
Beta Maxx @ Humphreys Backstage Live (9 p.m.)
Nekro Drunkz, Sakrificer, Seraphic Disgust, Leprous, Tideless @ Tower Bar
OB Comedy @ Winston's (6 p.m.)
The Maykers featuring Shirley Starks and Cheryl Rucker of JGB and the Terpischords @ Winston's
Low and Be Told, Doc Hammer @ Til-Two Club
4B @ Fluxx
Mike Delgado @ El Dorado
Freddie Jackson @ Sycuan
Crizzly @ Bassmnt
Cosmos Midnight @ Bang Bang
Borgeous @ Omnia
Popvinyl @ V Lounge, Viejas Casino
David Allan Coe, Sickstring Outlaws, Malaki @ Ramona Mainstage
Purps and Turqs @ Kava Lounge
Goodtimes @ Henry's Pub
Club Musae @ Boar Cross'n
Rosemary Bystrak is the publicist for the Casbah, the content manager for DoSD, and writes about the San Diego music scene, events and general musings about life in San Diego on San Diego: Dialed In. Follow her updates on Twitter or contact her directly.