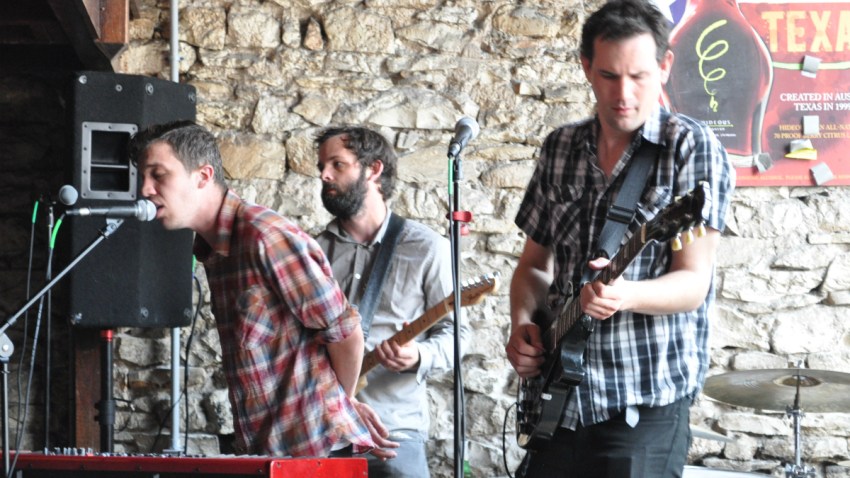 The first weekend of Coachella is finally here, which means you're on your way to Indio, or like me, you're planning a big weekend of tuning into performances on satellite radio while enjoying the comforts of home. While that's all happening, the San Diego music scene is still alive, like with tonight's sold-out Andrew Jackson Jihad show at the Irenic or with the Hills Like Elephants CD Release Party at the Casbah. There's also a full-on party with the Downs Family at Bar Pink, and the English Beat play another of their back-to-back shows at the Belly Up.
Friday, April 10:
Hills Like Elephants, Wild Wild Wets, Schitzophonics, Gloomsday @ Casbah
Andrew Jackson Jihad, the Smith Street Band, Jeff Rosenstock, Chumped @ the Irenic (sold out)
"It's Gonna Blow" @ Ken Cinema (midnight showing)
Peelander-Z, The Touchies, Chica Diabla @ Soda Bar (Peelander-Z has canceled, but the Touchies and Chica Diabla will still be playing)
The Downs Family @ Bar Pink
The English Beat, Coastal Frequency @ Belly Up
Philosopher's Ray Gun, Diamond Lakes, Nothingful @ the Bancroft
The Verigolds, Rosewood & Rye @ The Balboa (formerly Tin Can)
The Indys Are Coming, Merdian, the Cosmic 418s, Sean Hiatus, Skyler Shibuya @ Epicentre
Rebecca Jade & the Cold Fact, Erik Canzona & the Narrows @ Seven Grand
Well Hung Heart, Killmama, Mountain Tamer @ Brick By Brick
Scientology Party @ The Hideout
Isaac Cheong @ Wine Lover
ArtPower! Presents: Thalma de Freitas @ the Loft, UCSD
Joe Firstman, Sutter Zachman @ Lestat's
Casino Royale @ Java Joe's
Three Days Grace, Islander @ House of Blues
Battle of the Bands @ House of Blues, Voodoo Room
Igor and Red Elvises @ The Merrow
Bacon Bits @ U-31
Allison Adams Tucker @ Croce's Park West
Ruby @ Humphrey's Backstage Live (5 p.m.)
Rising Star @ Humphrey's Backstage Live (9 p.m.)
Fermentor (album release), Man vs Man, Fantasy Arcade @ Tower Bar
Jeff Bilodeau & Connor McSpadden Comedy @ Winston's (6-9 p.m.)
Poor Man's Whiskey and Guests @ Winston's (9:30 p.m.)
The Amalgamated, the Hashishians, Black Pearl @ Til-Two Club
The Widows, Creepy Creeps @ Whistle Stop
DJ E-Man @ Fluxx
Atomic Groove @ Belly Up (happy hour)
UZ @ Bassmnt
Tjani @ Bang Bang
Pleazure @ Tio Leo's
Rebecca Jade @ 98 Bottles
Eric & Friends, DJ RM @ Gallagher's Irish Pub
Club Musae @ Boar Cross'n
Coachella Viewing Party @ 710 Beach Club
Rosemary Bystrak is the publicist for the Casbah and writes about the San Diego music scene, events and general musings about life in San Diego on San Diego: Dialed In. Follow her updates on Twitter or contact her directly.