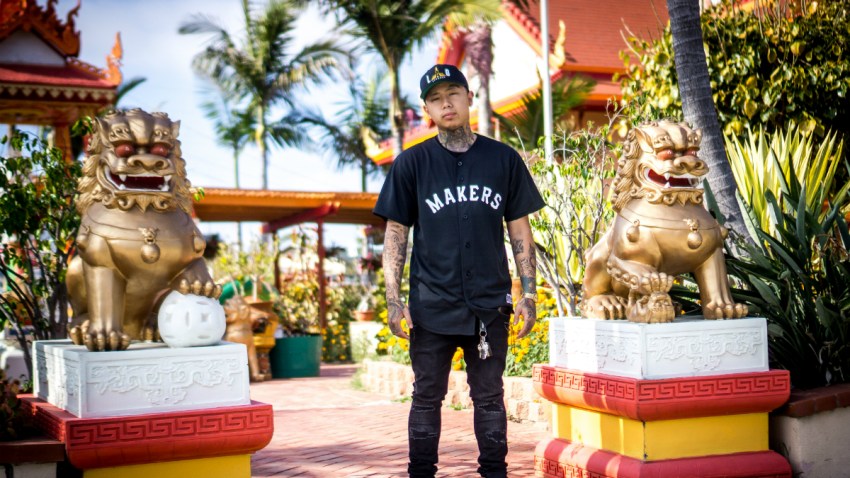 San Diego's Hearbreaka sounds heartbroken, the girl he wants -- or maybe it's the girl he had -- isn't around any more, and he's feeling the sting. His latest release "Gone," produced by Vokab Kompany, is a radio-ready pop single that finds the up-and-coming rapper pining for a relationship that's just outside his reach.
With a profile's that's rising, Heartbreaka's at a crossroads, his music career is starting to gel, he's playing bigger venues with larger crowds -- but there are sacrifices for success. And it's his personal life that takes the hit: While fans obsess over him, he's obsessing over a girl.
Heartbreaka admits to bad behavior in the single: "I'm not perfect/I know I made a lot of mistakes," he raps, before asking, "Give me your faith/Give me your hand/Look in my eyes/Until I'm gone/My love for you will never die." But it doesn't seem to work -- it's over. He's keeping up appearances but behind the neck ink and knuckle tattoos, there are traces of emotion: "You never love a good girl 'til she's gone/You never know what's right until you treat her wrong."
SoundDiego
Music. Community. Culture.
Boys aren't supposed to cry; instead they "man up" and keep it pushing. While that's good in theory, sometimes it just doesn't work for Heartbreaka: "Blunt after blunt after blunt/A bottle to the face and I still ain't drunk/These one-night stands, they ain't been all that fun/'Cause even when sober, I know you the one."
Who's sure why -- or even if -- she left? Whatever the reason though, she's gone now and he can't shake her.

J. Smith, aka 1019, is a San Diego native, rap fan and one half of the rap duo Parker & the Numberman. You can follow him on Instagram at 1019_the_numberman or on Twitter.