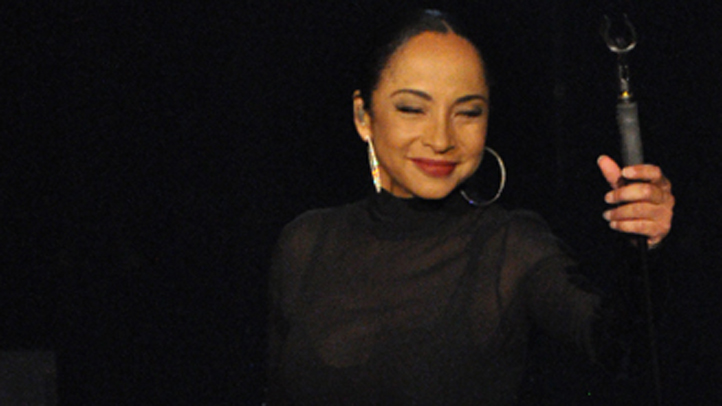 For me, the words smooth and jazz should absolutely never be used together.
Jazz is jazz, whether you're talking about "Ella Swings Lightly" or one of the more impenetrable compositions from the Sun Ra Arkestra. You put those two seemingly benign words together, however, and you immediately start referencing a grotesque, neutered, soulless version of one of music's finest traditions. It's just not fair to do jazz like that, especially after all that jazz has done for music.
And that's why Sade, many times horrifically referenced as the two-word-combo-that-shall-no-longer-be-named, needed to come out of their decade-long hiatus this year and show people how much different they are than someone like John Tesh. And that's exactly what they did on Tuesday night at Cricket Amphitheatre in Chula Vista. Of course, most of that hinges on their iconic frontwoman, Helen Adu, the notoriously private singer whose voice is probably responsible for as many births as cold winter nights.
For the most part, she was in top form on Tuesday.
Having nine-time Grammy winner John Legend open the show didn't hurt things either. Kicking things off with a cover of Adele's "Rolling in the Deep," Legend and his 10-piece band ripped through cuts from all four of his albums in front of a backdrop of reflective, hanging squares that looked as if a gigantic disco ball had exploded and stuck to oversize fly strips. Legend spent half of his time at the piano and half doing trademark moves, like getting down on one knee and serenading a female audience member to "Slow Dance" and bidding her farewell with a rose. He ended his set by busting out one of his more lively tracks, "Green Light," while standing on top of his piano. Stage adornments were torn down in a timely fashion, leaving a refreshingly stark geography for the headliner.
By the time Adu and Co. walked out to the first notes of "Soldier of Love," the mighty crowd was ready for them. The 52-year-old (!?!) Adu didn't show any signs of her 10-year absence from the stage as she delivered an impressive variety of songs from her nearly 30-year career with poise, grace and clarity.
Production designers made fantastic use of an enormous video screen backdrop that transformed the barren stage into an ever-changing visual landscape. "King of Sorrow" washed the stage in black-and-white as giant silhouettes danced behind the band. A second screen with birch trees in winter dropped down in front of the action during "Morning Bird," trapping Adu and her eight-piece band in a frozen forest for the song's four-minute run. And perennial favorite "Smooth Operator" began with an incredibly long, neon sign-washed crime-novel prelude that seemed co-opted from a Broadway play. But the display was best used when showing old home movies of Adu and the band playing behind them, encapsulating the group's 30 years of service to the world in the form of auditory muscle relaxers.
But not everything was chilled out cool. A souped-up, guitar-driven version of "Paradise" had Adu shaking her moneymaker and dancing, while "No Ordinary Love" turned the sprawling venue into an audience-wide sing-a-long. Hidden for most of the show, four large hydraulic lifts were also used to occasionally raise band members off the stage. But for all of the evening's spectacle, the pre-encore closer "By My Side" was done without excessive lights, the video screen or any other distractions. A barefoot Adu roamed the stage in an easy-going manner, basking in the adoration of the standing crowd. In the end, it was about what it's always been about: Adu and that amazing voice.

Set List:

"Soldier of Love"
"Your Love Is King"
"Skin"
"Kiss of Life"
"Love Is Found"
"In Another Time"
"Smooth"
"Jezebel"
"Bring Me Home"
"Is It a Crime?"
"Stronger Than Pride"
"All About Our Love"
"Paradise"
"Morning Bird"
"King of Sorrow"
"Sweetest Taboo"
"Moon and Sky"
"Pearls"
"No Ordinary Love"
"By Your Side"

Encore:

"Cherish the Day"
"Safest Place"