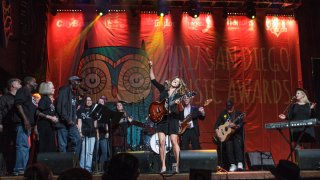 The San Diego Music Awards, which were originally slated to take place at the House of Blues on March 23 and were re-imagined and rescheduled for July 6 as a livestreaming event, kick off on Monday night.
The streaming, pre-recorded event will kick off at 7 p.m. PT and can be seen on SanDiegoMusicAwards.com, the SDMA Facebook page and the SDMA YouTube page, and will be free to the public.
The annual event, which launched in 1991, brings together musicians and bands from across a wide spectrum of genres for what is typically a raucous night.
This year's awards will be announced virtually by a slew of local presenters and will be intercut with pre-recorded performances by Gregory Page, who will be performing with Jason Mraz (who will present the Artist of the Year award); Mdrn Hstry; Sully the Band; Rebecca Jade & the Cold Fact; David Maldonado; Evan Diamond; the Sleepwalkers; and Lifetime Achievement Award recipient Richard Livoni of the Blitz Brothers. Viewers can expect additional performances as well. Fans tuning in can also see a special messages recorded by skateboarding icon Tony Hawk and Casbah owner Tim Mays. Folks tuning in to the end can catch basketball legend Bill Walton (who occasionally sits in with the Grateful Dead tribute collective known as the Electric Waste Band) handing out the trophy for Album of the Year.
According to the news release, more than 35,000 online votes were cast earlier this year to determine the winners of the genre categories, while members of the San Diego Music Academy, a group comprised of local music industry professionals that includes several members of the SoundDiego team, cast votes to determine the winners of the Best Album categories.
Monday night's program is being dedicated to Nina Leilani Deering, a local artist who contributed to many projects over the years, including co-founding the Voices of Our City Choir and the Kate Bush tribute act Baby Bushka, who was tragically killed in a car crash last month.
Over the years, more than $600,000 was been raised for various music-community and school-music programs, including Taylor Guitars for Schools. Recently, however, an SDMA Nominees COVID Grant program was established to benefit local artists affected by the pandemic, and some of the award show proceeds will be directed to them as well. Donations to local musicians can be made here. So far, $11,895 has been donated toward the $25,000 goal. Artist can click here to apply for a grant from.
2020 Album of the Year nominees include Blink-182, Cattle Decapitation, David Maldonado, Hirie, Karl Denson's Tiny Universe, the Mattson 2 and Switchfoot. Among those hoping for recognition as Best New Artists are the the Chunky Hustle Brass Band, Doom Bloom, Shanghais R&B, Overfall, Sean Hicks, Farmblood and Thee Sacred Souls.
Here's a link to a virtual program guide if you want to know when you can take a break!