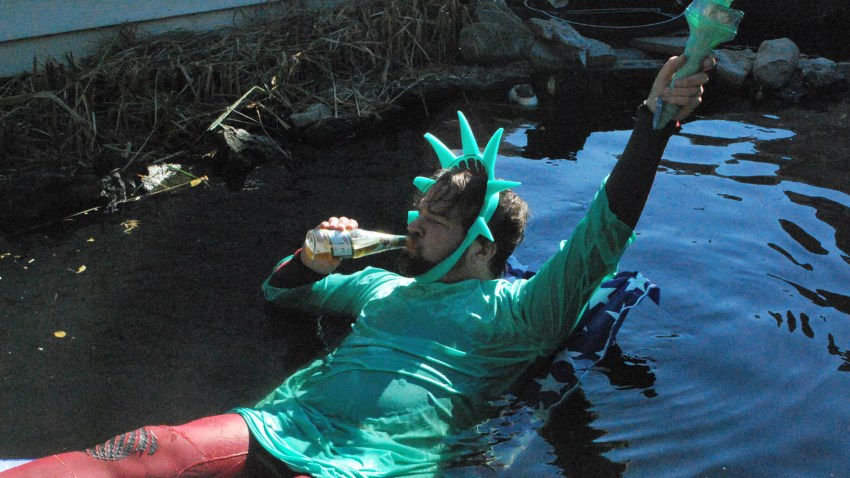 After nearly 20 years in the music industry, Jame Dewees sits in the back of a van, trying to steady his hand against the bumpy ride, doodling pictures that will serve as custom album covers to distribute at his next show. He's coming from Philly, where he's just sung himself hoarse at the opening night of the first Reggie and the Full Effect tour in five years, the first show in three.
"It was a crazy way to kick off tour," Dewees says from the road, which will bring him to Soda Bar on Wednesday, Jan. 29. "[Reggie and the Full Effect] has always been a good time, and to bring it back--especially to be 37 years old and running around on stage in hot pants and kids screaming everywhere at me--it's, in a way, my morbid dream come true."
An outlet for his admittedly sillier side, the goof-indie-punk outfit has endured periodic hiatuses since its inception in 1998, but Dewees has been touring consistently regardless. Reggie, after all, is just one of his many side projects. Best known as the keyboardist for the Get Up Kids and drummer for Coalesce, he's toured with pop-punk's New Found Glory and most recently with My Chemical Romance before their split last March. The dissolution of MCR led Dewees back to Reggie, and by April, he had a successfully funded Kickstarter campaign to record No Country for Old Musicians and tour the hell out of it.
"It's like an all-inclusive resort in Mexico," says Dewees of his live shows, which include music, comedy, and skits. "There's costume changes--it's not your average indie-rock show."
The new album, released in November, returns to an earlier style of Reggie, "just recorded better," Dewees adds with a laugh. No Country for Old Musicians is more introspective than previous albums, however, as Dewees becomes increasingly aware of his age and the ensuing feelings of disconnect. But it's all under the guise of absurdist songwriting. "It's not as poetic as, say, listening to Dashboard's lyrics. When I do it, it's like, annnd I'm singing about waffles," Dewees laughs. "But that's me though. I'm not trying to pretend that I'm some songwriter that has deeply passionate, emotional songs all the time."
It's a formula that has garnered Dewees an enthusiastic cult following, those same fans who helped fund the album and this tour. He knows he's fortunate to have them, and he's grateful, which is why he's fighting against the bumpy van ride to draw those album covers.
"Musicians get lumped into the category of a--holes. And it's tough when you're out on the road. Sometimes you're tired--you're just not in the mood," he says. "I want to let all of these kids know that I am always in the f---ing mood."
Reggie and the Full Effect plays Soda Bar on Wednesday, Jan. 29, 7:30 pm, $16, 21+. Dads, Pentimento, the Frights open.


Hannah Lott-Schwartz, a San Diego native, recently moved back to the area after working the magazine-publishing scene in Boston. Now she's straight trolling SD for all the music she missed while away. Want to help? Hit her up with just about anything at all over on Twitter, where -- though not always work-appropriate -- she means well.