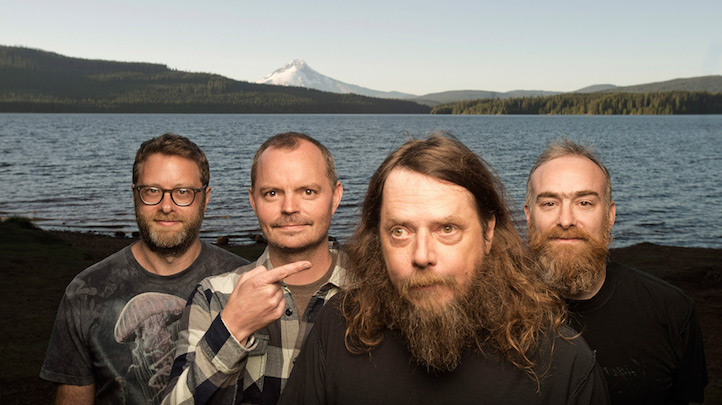 Judging by the sheer number of beer cans crushed by Red Fang in their multitude of always-entertaining music videos, you might think the guys' biggest hobby (outside of that whole music thing) is throwin' back a brew or 10. And while that may not be too far from the truth, for co-singer/guitarist Bryan Giles, there's one activity in particular he just can't get enough of: Pinball.
"There's something really zen about it," Giles told me during a recent phone call. "You start playing mind games with yourself. I get sort of meditative about it."
If you are as surprised as I was, don't blame yourself. For a band that unleashes the type of face-melting, buzzsaw stoner-rock fury that Red Fang has been pumping out for the last 10-plus years (continuing on their just-released Relapse Records album, "Only Ghosts"), I'd think their hobbies ranged from demolition derby racing to Russian roulette. Maybe I assumed that the band had a proclivity for danger and mayhem stemming from the litany of zany music videos that show them routinely dismembered, bloodied and/or detonated. They're all righteously and hilariously macabre -- even the animated one (in which cute kittens absolutely annihilate a legion of orc-looking monsters). But ... pinball?
SoundDiego
Music. Community. Culture.
"Yeah, it's a really fun waste of time," Giles said laughing.
After sheepishly admitting that I have only ever played a competitive game of pinball once in my life -- my wife will attest to that, and also gloat about her victory ("Ah, the key to a happy marriage," Giles pointed out) -- the singer/guitarist had some words of encouragement and a few tips for any other novices out there.
"The two simplest rules are never hit both flippers at the same time," he explained. "Some people think you're going to close the gap; if you barely graze it with one flipper and you've already got the other flipper up, you're going to knock the ball down. In general, slow the ball down ... or stop the ball altogether. Cradle it and look at what you need to do. A general rule of thumb: If you don't know the machine at all -- if it's blinking, shoot for it."
He also encourages fans to head to Brick by Brick on Tuesday, Nov. 22 (before their show at the Casbah the same night) for a round of -- you guessed it -- pinball on a trusty Pabst Can Crusher pinball game. It's a chance to meet the band, hang out with the guys, play a few balls and go head to head with Giles himself. After all, it's one of the main things he looks forward to on tour.
"We usually have a few hours of downtime before every show, so getting dinner and playing pinball are my goals," Giles said. "There's an app called the Portland Pinball Map that tells you what pinball machines are near you and what condition they're in, so whenever we're in a neighborhood that has lots of bars, we're likely to use that app, or we'll ask folks where they are."
So, whether you're crushin' a game of pinball with the guys at Brick or gettin' your head crushed in at the Casbah, Giles (coincidentally a one time San Diegan who used to live above the then-Scolari's Office bar in North Park) promises a good time.
"I've got really good friends down that way, so hopefully a lot of them come out. It's a homecoming show, which is always fun. And Casbah's one of our favorite places to play. The PA has way more power than that room needs. You'll be pulverized -- whether it's a positive beating or a negative one, we'll have to see."
Red Fang headline the Casbah on Nov. 22 with Torche, Whores and Bosswitch. Tickets are available here. The band will also be at Brick by Brick earlier that night for a free Pinball Party.

Dustin Lothspeich books The Merrow, plays in Diamond Lakes, and runs the music equipment-worshipping blog Gear and Loathing in San Diego. Follow his updates on Twitter or contact him directly.