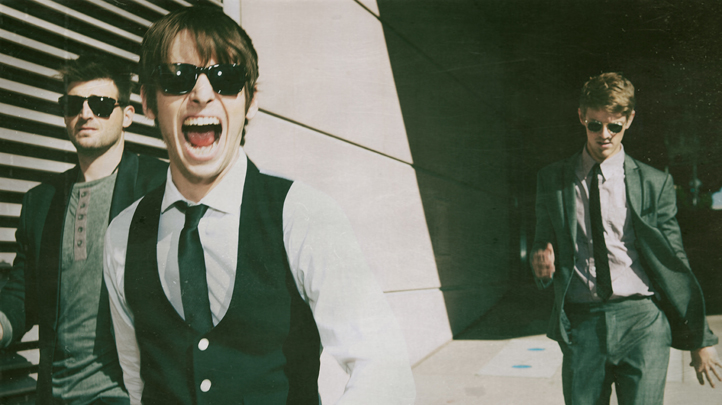 You couldn't have survived the summer without hearing "Pumped up Kicks." It was 2011's answer to MGMT "Time to Pretend," and it seems we were due for another indie-pop anthem of the summer, so it's no wonder that Foster the People exploded this year. It's the perfect formula: sunny harmonies, heavy beats and ironically dark lyricism about an alienated kid's revenge. Although controversial, it's not all that obvious unless you're really listening, but people will most likely be too busy dancing. The single went on to sell hundreds of thousands of copies, and the band began a heavy touring circuit and even got to perform the season premiere of Saturday Night Live with a little help from Kenny G. Of the overwhelming fame, frontman Mark Foster told Rolling Stone, "A tidal wave came and we're swimming like hell."
For those who might consider the band to be an overnight success, Foster the People have been a long time coming. Foster moved to L.A. from Cleveland to pursue music while picking up odd jobs and barely making the rent. After a few years, he landed gigs writing commercial jingles, which gave him a commercial sensibility for writing a good pop song. "Pumped up Kicks" was first advertised by Nylon Magazine for a fashion show, and that's when it started getting picked up by the blogosphere, and while that seemed to be virtually overnight, it was a culmination of many years of hard work and struggle. The result was a full length debut called Torches -- it's a genre-spanning collection of breezy pop jams. Taking cues from hip hop, dance, '80s and indie rock, Foster the People have something for pretty much everyone.
More reasons to love the band: They've partnered with the Do Good Bus, which travels with them throughout North America. The bus takes fans to help volunteer in community service. At various stops, they'll prepare meals for local food banks, raise money for firefighter equipment for the wildfires in Texas -- it's something different everyday. And that's a lot of do-gooding for a band who's been touring for nine months, consistently. Their show at Soma, is, naturally, sold out, so if you were lucky enough to snag a ticket, enjoy the show!
Nada Alic runs the San Diego-based music blog Friends With Both Arms.Follow her updates on Twitter or contact her directly.