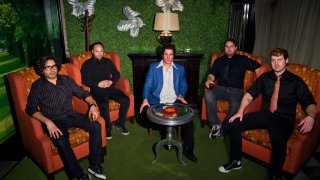 It's Monday, music fans, so it's time for another SoundDiego Pandemic Playlist -- check out 10 San Diego artists of today and yesterday (full disclosure: not all of the songs are on our YouTube playlist), then reach out online and find someway to provide some support:
"Running to You," by Savannah Philyaw: This video features Philyaw running through spring flower blooms. I miss running through flower fields and I love the sweetness of this song. Buy Savannah's music here.
"¡Fuego!", by Marujah: While not the kind of masks we're sporting these days, this video features beautiful masked people and fire. Marujah is as one of the hardest-working bands around, and I can't wait to dance to their sweet ska sounds soon. Support Marujah here.
"Happy Days," by Blink-182: I keep coming back to this one. Seeing fan footage during stay-at-home orders in kinda comforting in a "we're all in this together" kind of way.
"Clouds," by Black Hesher: This video has some beautiful footage of the places we love the most in San Diego and Lemon Grove. Can't wait to get back out to enjoy our beautiful city. Check out Black Hesher merch here.
"The Assasin," by Odessa Kane: A local rap favorite, Odessa's new track dropped last week. Buy OK merch here.
"Alone Together," by the Spiritual Motels: This one is a sweet and pretty compilation of quarantine living: "We've got lots of videos and photos of friends and fans depicting what they're doing during the quarantine. Our goal is to bring a little joy to our listeners in the midst of all the sadness and uncertainty." Grab the tissues, then support SDMA 2020 Best Pop nominees Spiritual Motels here.
"Grateful," by Jewel: Jewel has been very active advocating for mental health issues while we're all staying home. Support her charities here.
"Cash for Gold," by Writer: This one is an oldie but goodie. Last year, Jayme Ralph suffered a very rare intracerebral hemorrhage. After 10 months of care, he was medically transported to Southern California in February for rehab care and to be with his parents. I've been thinking about the Ralph family a lot at this time. You can support his medical care here.
"Night Terrors," by the Palace Ballroom: The band was set to reunite to headline the North Park Festival of Arts in May, but the festival has been moved to October 10, and we're hope that reunion can still happen. Support frontman Timothy Joseph's Phaser Control studio at Venmo.
"Left Coast Sunshine," by Jesse LaMonaca & the Dime Novels: I've been worrying about Jesse a lot these days. He made the decision a few years back to go into nursing and is now working around the clock, in the thick of this pandemic. "It's been nuts at the hospital... .Hopefully this curve gets flattened," he told me. Admittedly, I have been missing that Left Coast Sunshine. Support Jess and the band via Venmo.
Bonus: "Dancing In The Streets," by the Wayne Riker Gathering:
2017 SDMA Lifetime Music Award recipient Wayne Riker reached out with this fun little localized version of "Dancing in the Streets." Recorded last year at Studio West, it's on a release nominated for Best Blues Album at the 2020 San Diego Music Awards. You can buy Wayne's music here.