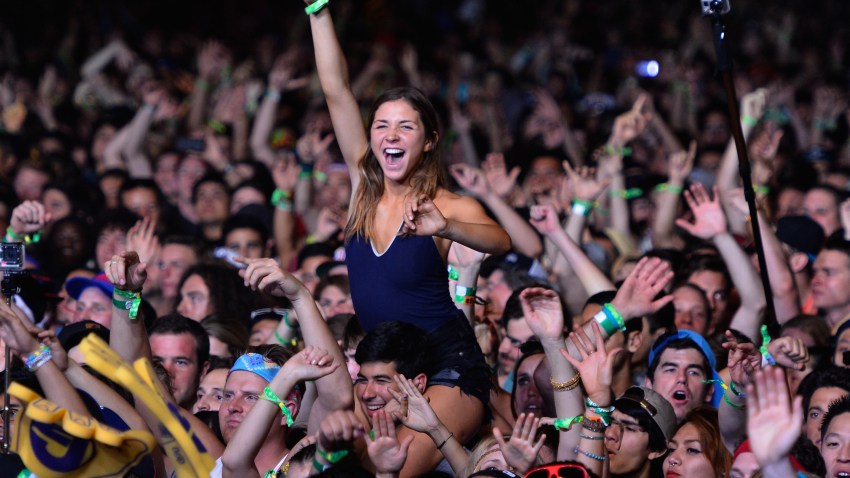 I read a lot as a kid. Shel Silverstein, Judy Blume, the Hardy Boys -- I loved them all. But nothing did it for me like the Choose Your Own Adventure collection. Starting with Edward Packard's The Cave of Time, I was completely hooked on the series and the concept. The fact that I could re-read the same book, while taking a new path or making a better decision, was incredibly freeing. Choices, good or bad, could be learned from and applied the next time through.
The Coachella Music and Arts Festival is that series in gigantic musicpalooza form. With something like 85,000 people on site each day, there are millions and millions of different experiences to be had.
My first few trips to Indio were exactly that: divergent adventures dictated by the company I kept, the lodging (or lack thereof) awaiting me after the long days, and many other factors, but I've kind of settled into a routine these days. I chase the music until my feet hurt, and then go back to the hotel. Fridays are always a big day for that, as I haven't yet been beaten down by that relentless desert sun and actually got a good night sleep the night before.
And this Day 1 was no exception.
I got into the venue early, about 1:30 p.m., with relative ease. There are many ways into the massive, sprawling venue, but the one I chose moved quickly and efficiently. It was pretty hot, and the lot I parked in, while easy to access, seemed about 10 country miles away. So I was relieved that the first act I saw, San Diego-born Trevor Powers (aka Youth Lagoon), was in the shade of the Mojave Tent. His set was as nicely weird as his albums tend to be, and a large crowd assembled to see his early set.
Bon Iver's Justin Vernon has a new band. It's called the Shouting Matches, and it was my next stop, but they were running late so I headed to the Outdoor Stage for Beardyman. The British beatboxer was highly entertaining, keeping the crowd alternately nodding and cracking up with his oddly appealing mix of loop-based, self-made music and high-energy humor.
Next it was back to the Shouting Matches for a song or two, then I caught UK wunderkind Jake Bugg, Minneapolis' Polica (which included an appearance by Midwest brethren Vernon) and Smiths guitarist/songwriter Johnny Marr. Marr was in top form, and within a song or two, already busting out a fantastic version of "Stop Me If You've Heard This One Before." So much for staying away from the old stuff.
The Spoon/Handsome Furs collaboration Divine Fits was next, followed by a blistering set by Vancouver duo Japandroids. I was pretty disappointed by the lackluster showing by UK buzz band Alt-J, who basically sleepwalked through its set. It was a shame, as people were overflowing out of the Mojave Tent to see them.
Next it was back out into the sun to see Icelandic six-piece Of Monsters and Men, and then back to the Gobi for an incredible showing from the indomitable Lee "Scratch" Perry. I have no idea how old that guy is, but for a legendary Jamaican producer who has already cemented a place in the annals of music history, he stills brings it pretty hard.
UK start-ups Palma Violets were nonstop energy during their short set, and L.A.'s Local Natives delivered on their well-deserved reputation for being a stellar live act.
While making good on a set full of reputable songs, Modest Mouse was about as boring as a main-stage act can get, so when I got to the insane hoopla of Jello Biafra & the Guantanamo School of Medicine's set, I was kicking myself for not getting there earlier. The outspoken Dead Kennedys' frontman was channeling his inner Blue Velvet, ranting and rolling with smeared red lips and menace in his eyes. And for those of us old dudes raised on DK, throwing "Too Drunk to F---" at the end of the set was redemption for never seeing the band in its heyday.
Beach House was a bust. I love their records, but the Baltimore duo stayed in the dark the entire time, and their set was the equivalent of listening to a sound check over Skype. It was a big bummer, because it made me late to Yeah Yeah Yeahs, and I wasn't allowed to shoot pictures. But they were great. Karen O. was initially dressed in a Papal outfit and the band was backed by a choir donned in purple. It looked and sounded fantastic.
I watched a little of a decent set by Band of Horses while I decided whether I wanted to see Blur or Grinderman. Ultimately, I chose Grinderman because I knew Nick Cave would be on fire with that band. He'll still be great with the Bad Seeds on Sunday, but I knew that there'd be a little something extra. I was right. He was sweaty, wild and frothing. And I still got to check a few Blur songs out on my way to Jurassic 5. The L.A. hip-hop collective put on an amazing set of old-school jams and head-nodding goodness.
It was the perfect way to end the night.