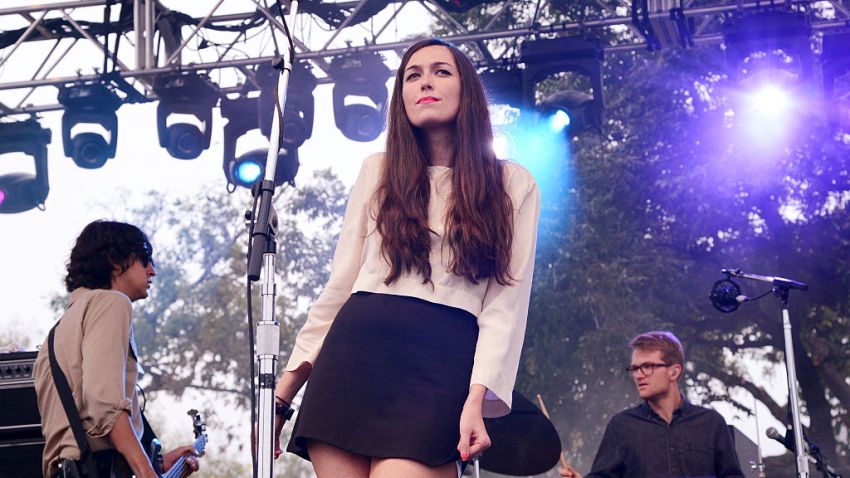 The costumes and jack-o-lanterns are behind us, but before we kick into the next holiday, can we just take a breath and catch some fun live music? I mean, Friday night is packed to the brim with awesome shows. London's Kero Kero Bonito return to town with their first-ever Belly Up show. You might recall they had two sold-out shows in the spring leading up to their appearance at Coachella, and hopefully your flamingo gear is close enough to pull out for this big night. You could also head to Soda Bar, where they're celebrating their 10-year anniversary with two nights of Cults. All the familiar faces should be on hand to pass on a big 'thank you' for the void they filled for live music in the Mid-City area, always taking their chances on new and upcoming acts [read our interview with co-owner/booker Cory Stier here]. Meanwhile, it's gonna get loud at the Observatory North Park for Dinosaur Jr., and maybe even louder at the Casbah for Mike Watt & the Missingmen. Lots of great options for this Friday night all the way down the list.
Friday, Nov. 1:
Cults, Weatherbox, Positioner @ Soda Bar
Kero Kero Bonito, Negative Gemini @ Belly Up
Dinosaur Jr., Easy Action @ The Observatory North Park
Mike watt & the Missingmen, Shake Before Us, Hurricane Kate @ Casbah
Jon Pardi, Riley Green @ Cal Coast Credit Union Open Air Theatre, SDSU
Kikagaku Moyo, Minami Deutsch @ Music Box
Odonis Odonis, Lower Tar, O/X @ Whistle Stop
First Friday with DJ Artistic, Cros1, Johaz @ Bar Pink ($5 after 11 p.m.)
Nellie McKay @ Museum of Making Music
We Are Yr Friends @ Blonde
Peter Sprague & Roni Ben-Hur @ Dizzy's
Ramon Ayala @ The Magnolia
Shoreline Mafia, 1TakeJay, AzChike @ Soma
Mad Hat Hucksters @ Panama 66
The Brokers @ Belly Up (5 p.m.)
Night of the Dead with Legion X, Flowers, Codex Confiteor, with piano interludes by Sean Francis Conway @ Black Cat Bar
Captured! By Robots, the Gay Agenda, Speculum @ Brick By Brick (10 p.m.)
Wovenhand, Blind John Pope, the Howlin' Roosters @ Brick By Brick (6 p.m.)
Kayla Ray @ Crossroads, House of Blues (FREE)
Fast Heart Mart @ Grand Ole BBQ & Asado
Diggin Dirt, Russell Ramo & the Funk Bus @ Winston's
Jerry Jacobs @ Moonshine Beach
Joe Nichols @ Moonshine Flats
Halloween Party 2 of 2 with Live Music and DJ V @ De Oro Mine Co
La Santa Cecilia's Muerto Boogie @ House of Blues
Day of the Dead: B3K, OFIER, the Jeffrees @ The Holding Company
Cubensis, Grateful Dead Experience, Moonalice @ Ramona Mainstage
The Frets, Sons of Levins, WidowMade @ 710 Beach Club
Rock En Espanol with Zenith @ Border X Brewing
Dia De Los Muertos Edition with Tennessee Tina & the Last Black Hour, Riston Diggs, Getaway95 and more @ Salty Frog
Old Blood, Red Wizard, Ritual Potion @ Pour House
Bonneville 7 @ Pour House (5 p.m.)
Lakuti @ The Merrow
Theo Croker @ The Loft, UCSD
Custard Pie @ Mr. Peabody's
Methane, Incarnit, Mind Cell @ Bancroft Bar
Gilbert Castellanos @ Plaza Bar, Westgate Hotel
Sophia Alone @ Martini's Above Fourth
Rituals: 2 Year Anniversary Party with Kontravoid @ Space
Hip Hop vs. Punk Rock with Bad Luck Cortez, Rival Squad, Mad 3, Savage the 3rd @ Tower Bar
The Tighten Ups @ Wildwood Crossing
Nite Moves with DJs Beatnick & Ayla Simone @ The Office
Rose Colored Glasses @ Riviera Supper Club & Turquoise Room
Ride the Dark Wave Reunion: Dethsurf, Los Pinche Pinches, the Scimitars @ Til-Two Club
All-Vinyl Happy Hour w/Monsieur Turbeau @ The Office (6 p.m.)
Big Time Operator Orchestra @ Tio Leo's
Detroit Underground @ Humphrey's Backstage Live (9 p.m.)
Manzanita Blues @ Humphrey's Backstage Live (5 p.m.)
3 Car Garage @ Navajo Live
En Stereo Total: '80s and Rock en Espanol! @ Manhattan Bar
Quel Bordel @ PB Cantina
FNGRS CRSS: Justin Jay, Golf Clap @ Spin
Baauer @ Bang Bang
Rosemary Bystrak is the publicist for the Casbah and writes about the San Diego music scene, events and general musings about life in San Diego on San Diego: Dialed In. Follow her updates on Twitter or contact her directly.