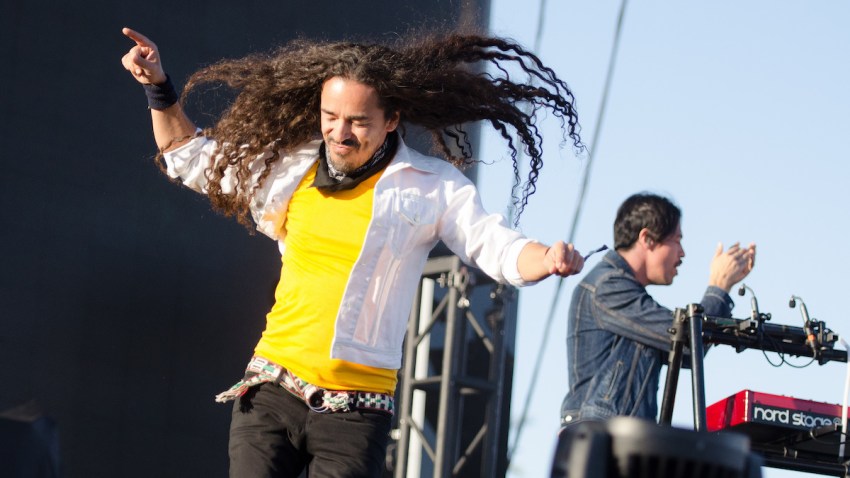 Americans love to celebrate Cinco De Mayo, but in reality, Mexico's Independence Day, or Fiestas Patrias, is on Sept. 16, so naturally this weekend is a good time to really experience Mexican culture and its impact on our San Diego lives. There's a Fiestas Patrias celebration in Old Town all weekend, and it's full of vibrant food and music for all to enjoy. There are actually a ton of festivals and fairs and daytime events to get you going this Saturday. And besides the sold-out Kaaboo festival, there's so much music tonight.
Casbah
is doubling up with an early show with Junior Brown and a late show with Surefire Soul Ensemble. Peter Bradley Adams returns to Soda Bar and fiery stars Cafe Tacvba get things going at Harrah's SoCal Resort. I could go on, but you can check the list for yourself and find some magic in the music tonight.
SoundDiego
Music. Community. Culture.
Saturday, Sept. 14:
Kaaboo Del Mar featuring Dave Matthews Band, Black Eyed Peas, One Republic, Bryan Adams, Sublime With Rome, Squeeze, Switchfoot, Cheat Codes, Keuning, Badflower, Southside Johnny & the Asbury Jukes, Blind Melong, Mix Master Mike, Laine Hardy, The Artisinals, The Gooms, Suckerbox, Chevy Metal, Time Reynolds, Sir, Please, Bert Kreisher, Jimmy O Yang, Tig Notaro, Tom Green, Chefs Michael Mins, Nyesha Arrington, Travis Swikard @ Del Mar Fairgrounds (sold out)
South Bay Pride Art & Music Festival @ Bayside Park, Chula Vista (free, 12-7 p.m.)
Fiesta De Independencia @ Thorn Brewing Barrio Logan
Fiestas Patrias & Founders Day Festival @ Old Town
Ray at Night @ Ray Street, North Park
Moon Festival @ Spreckels Organ Pavilion, Balboa Park (free, 11:30 a.m.)
Surefire Soul Ensemble, Montalban Quintet, Moans @ Casbah (9:30pm)
Junior Brown, Trevor McSpadden @ Casbah (6 p.m.)
Cafe Tacvba, Neptuna @ The Events Center, Harrah's Resort SoCal
Peter Bradley Adams @ Soda Bar
"Musicians for Autism": 2019 Believe Benefit Concert for UCSD-ACE @ The Conrad (10 a.m.-1 p.m.)
Low Volts @ Grand Ole BBQ & Asado (1-4 p.m.)
Too Rude for Sunday @ Mr. Peabody's
DSB, 80's Underground @ Belly Up
DJ Mike Delgado @ Bar Pink
Air Supply @ Pechanga Resort
DJ Dennis the Menace Borlek @ Whistle Stop (5 p.m.)
The Higgs, Katie and Andrea @ Winston's (9:30 p.m.)
Kataklysm, Exhorder, Krisiun, Hatchet @ Brick by Brick
Booty Bassment with DJs Dmitri and Rob @ Whistle Stop
San Diego Showcase with Hardini, Sethii Shmactt, Jody, YHG Pnut @ Soma
Joey Harris & the Mentals @ Black Cat Bar
Pink Turns Blue @ Space
Just Like Heaven '80s New Wave Nite @ Blonde
Clinton Davis Trio @ Panama 66
Quantic, Mimi Zulu @ Music Box
Hippie Death Cult, Mezzoa, Psylow, Strange Mistress @ Til-Two Club
Chafa, Blood Stained Concrete, Bobxross, Tourist, Madrugado @ Che Cafe
Edgar Degas: Works on Paper @ California Center for the Arts, Escondido
The Dave Gleason Trio @ Grand Ole BBQ & Asado (5-8 p.m.)
Lea Love, Swells @ Rookie's Sports Bar
Lorenzo Antonio y Sparx Cena y Baile @ Sycuan Casino
Country Brunch Live with Whiskey Ridge @ House of Blues (10 a.m.)
The Long and Winding Road @ House of Blues
Quel Bordel @ The Holding Company
Sherry Vine in "Hollywood and Vine" @ Martini's Above Fourth
Ealdor Bealu, Nebula Drag, Mortar, Vedic @ Tower Bar
Frankie T. & the Triple B. @ De Oro Mine Co.
Viva Mexico! Special Edition Loteria Night @ Border X Brewing
Glamourbomb @ Bancroft Bar
The Industry, Saving the State, Splendid Noises @ Lestat's
Limited Jurisdiction @ Winston's (2 p.m.)
Urban Gypsys @ Wildwood Crossing
James Kaye @ Himmelberg's
Club Sabbat: Naughty School Girl Night @ The Merrow (8 p.m.)
T-Dance @ The Merrow (12 p.m.)
Steph Johnson @ Plaza Bar, Westgate Hotel
Riot Scene: Deathboys, Roman Watchdogs, Three Kings @ Salty Frog
Strictly Business with DJs Edroc & KanyeAsada @ The Office
Tiki Tronic @ Riviera Supper Club & Turquoise Room
No Kings, Nothing Special, 2Tone Lizard Kings @ 710 Beach Club
Thump Juice @ Rosie O'Grady's
The Cobby Brezeski Quartet @ Seven Grand
Whiskey Ridge @ Renegade
"Art of Flamenco" Dinner Show @ Cafe Sevilla
Bump City Brass @ Tio Leo's
Rising Star @ Humphreys Backstage Live (9 p.m.)
Mercedes Moore @ Humphreys Backstage Live (5 p.m.)
Mini-Concert with Kasey Kay @ The Lyceum (free, 12 p.m.)
The Lost Monarchs @ Amplified Aleworks
Manhattan 62nd Anniversary Lot Party @ Manhattan Bar
Caliber, DJ Moniq @ V Lounge, Viejas Casino
Fluid in Motion, DJ Moniq @ Lobby Bar, Viejas Casino
North County Lumber Truck @ Indian Joe Brewing
Butts Ta Nute with Jason Waterfalls, Julz, Kev Might @ El Dorado
Karma @ Parq
Gareth Emery @ Hard Rock Hotel
Nitti Gritti @ Bassmnt
Stay United: Christian Martin & Lenny Kiser @ Spin
Chosen Arrows @ Navajo Live
Wellman @ Fluxx
AUF Presents: Umbrella Nights No. 8 featuring Susio, Tiago, Mad Waves, Leelu @ Kava Lounge
DJs & Dancing @ Henry's Pub
Rosemary Bystrak is the publicist for the Casbah and writes about the San Diego music scene, events and general musings about life in San Diego on San Diego: Dialed In. Follow her updates on Twitter or contact her directly.