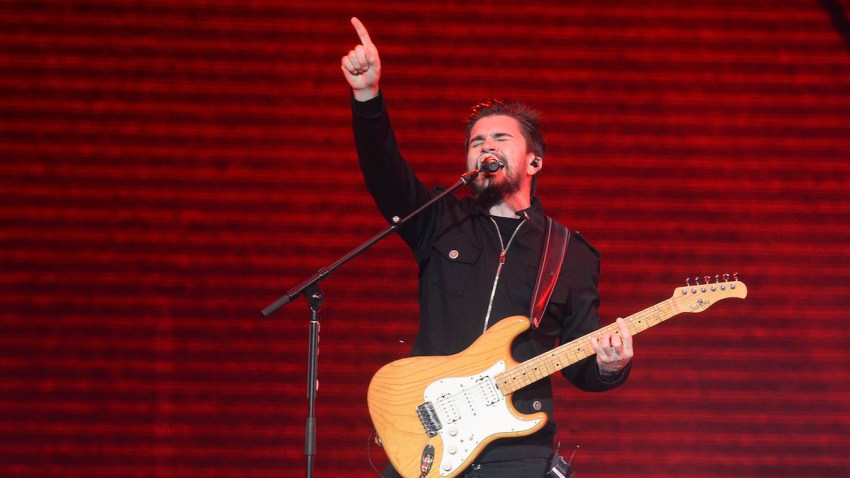 I went to this small, little school for college. I commuted to school, but a friend of mine stayed with her boyfriend so frequently that I kind of took over her dorm when she was gone, and the neighbors were almost all from other parts of the world.... Mexico, Brazil, Guatemala, Costa Rica, Brazil and Cameroon, to name a few. So, the music we gravitated toward had this universal vibe -- Manu Chao or early Shakira (from the "Pies Descalzos" days), and maybe not unsurprisingly Bob Marley and Oasis. Futbol players almost universally love Oasis. At the time, this new artist was breaking out of Colombia and any dorm you'd walk by was blaring his debut record, "Fijate Bien." I knew then that Juanes was going to be a global star, so I had my one chance to see him for free at the County Fair. Long gone are those days, and tonight, Juanes headlines Sycuan with tickets starting at $89. Wish I was there, but you can be sure that this is going to be an amazing show for those who are. Around town, the Naked I bid farewell to their drummer, Alexander (who's moving to Oregon), with a show at the Casbah. The punniest band around, Them Poehler Bears, are at Soda Bar, and Stephen Marley plays the first of two nights at Belly Up.
Monday, Sept. 9:
Juanes @ Sycuan Casino Resort
The Naked I, Sante' Prince, Fairplay @ Casbah
Them Poehler Bears, Flower Animals @ Soda Bar
'80s Nite with DJ Junior & Guests @ The Merrow
Dave Gleason Trio, Djgirlgroupgirl, Crypt Digger @ Bar Pink
Motown on Mondays @ The Office
Stephen Marley, DJ Shacia Payne & Jo Mersa Marley @ Belly Up
Electric Waste Band @ Winston's
Open DJ Night: All Vinyl, No Scratching @ Til-Two Club
Steve Grimmett's Grim Reaper, Old James, Killing Tyranny, Twelve Foot Shadow @ Brick by Brick
Modern Darkwave Night with DJ Camila Robina, Mystery Cave, Le Apples @ Blonde
Fuzzy Rankins @ Humphreys Backstage Live
Julio De La Huerta @ Plaza Bar, Westgate Hotel
Carol Curtis @ Martini's Above Fourth
Strictly Acoustic @ Navajo Live
Electric Relaxation: '90s Hip-Hop/Chill Beats @ Whistle Stop
Mic'd Up at Moonshine @ Moonshine Flats
Rosie's Jazz Jam with Louis V @ Rosie O'Grady's
Industry Night @ Himmelberg's
Open Mic @ Lestat's
31 Flavors @ U-31
Rosemary Bystrak is the publicist for the Casbah and writes about the San Diego music scene, events and general musings about life in San Diego on San Diego: Dialed In. Follow her updates on Twitter or contact her directly.