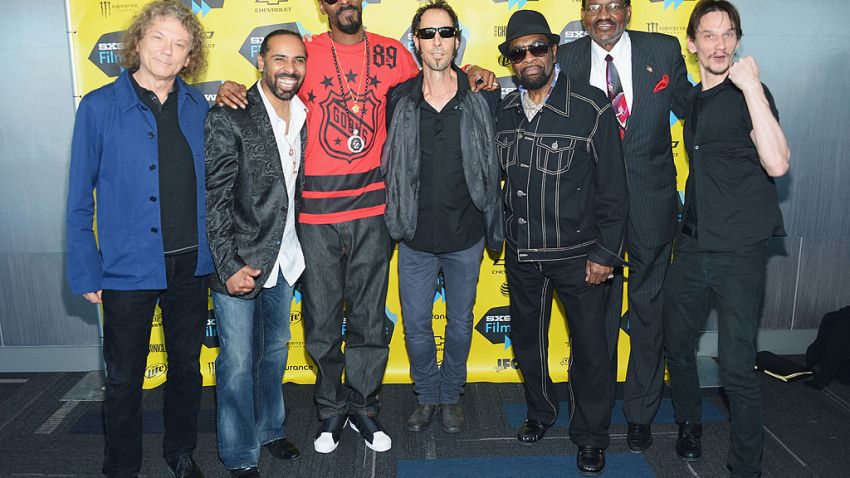 When the Sept. 16 screening of "Take Me to the River" -- the critically acclaimed documentary chronicling the historical musical influence of Memphis and its musicians -- wraps at the Museum of Making Music in Carlsbad, three of the main figures behind the film will step in front of the screen to discuss the film in a very special Q&A panel.
In a move sure to delight San Diego music fans, film director Martin Shore, famed soul singer/songwriter William Bell, and Talking Heads founding member (and one the film's executive producers) Jerry Harrison will be on hand to answer questions about the 2014 documentary.
As a thrilling follow-up the very next night (Sept. 17) at the museum, Bell, Harrison, Al Kapone, Frayser Boy, the Royal Memphis Horns, and others will perform selections from the film's soundtrack as part of MOMM's annual "Play It Forward" fundraiser gala, which raises money for its community outreach and educational programs.
SoundDiego
Music. Community. Culture.
"Take Me to the River" takes viewers through the creative process of writing, recording and performing a brand new album with multiple generations of legendary R&B, soul and blues musicians as well as younger in-demand hip-hop artists -- all while documenting the societal, historical, and musical impacts the region and its players have had over the years on the landscape of music in general.
The roster of artists who collaborated on the film and its soundtrack is a testament to the importance and weight of the film's story: Bell, Mavis Staples, Otis Clay, Charlie Musselwhite, the North Mississippi All-Stars, Terrence Howard, Bobby Rush, Frayser Boy, Yo Gotti, Lil P-Nut, Snoop Dogg and Bobby "Blue" Bland are just some of the marquee artists involved.
While we'll be front and center at Friday's screening/Q&A session and Saturday's show, SoundDiego was lucky enough to talk with Harrison over the phone about the film, his involvement, Talking Heads, and his immense body of work as a record producer.
Dustin Lothspeich: First thing's first: How did you become involved with "Take Me to the River"?
Jerry Harrison: Martin Shore who directed the film, we've been friends for a number of years, and I was over at his house and played him some mixes of "10 Days Out: Blues from the Backroads" -- a Kenny Wayne Shepherd live album I had been working on -- and he was like, "Oh you make this sound so good," and he goes, "Let me play something for you from this new project I'm working on." So we listened to some of his mixes and I told him, "You've got some truly great performances," and we proceeded to take the recordings and start mixing them and bring out how sparkly the music was. It really all started to come together when I flew out to Memphis and met everyone and did a session with William Bell, and got to know Boo Mitchell.
DL: What was it like being in the studio while you had these legendary musicians like Mavis Staples and William Bell coming through?
JH: It was really special. We went to Royal Studios and the drummer would hit a hi-hat and a snare, and it was like, "There's that Al Green sound." The first bands I played in, I am old enough that we were playing music before the British Invasion [laughs]. And in my early high school bands, we did Rufus Thomas and we did James Brown and we did songs that were coming from that Memphis sound. I had an awareness and a respect for it going back to even then. But the idea that I'd actually see the real people who were doing it, and just being in the studio with everyone, and seeing the genuine brilliance and purity of heart these musicians have, while knowing that many of them had fairly -- well not "fairly" -- very hard lives. We live in a time where there's a lot of talk about healthcare, and you see the result of the lack of it.
DL: Along those lines, the film delves into the history of Memphis as well and how it intertwines with its musical legacy.
JH: Memphis in the '50s was considered one of the greatest places to raise children, but after the riots -- after the Martin Luther King, Jr. assassination -- it became much more segregated, people were more fearful for their lives, companies wouldn't move there, unless you're a FedEx at the airport or something. But now there's this resurgence of new musicians, and slowly and surely, it's coming back. It's kind of like a phoenix rising from the ashes -- it's the rise of Memphis coming back. That trajectory is unlike any other documentary that I know of.
DL: Since there's quite a lot of ground to cover, was it difficult tying everything together?
JH: Well, we had 4,000 hours of footage; if you worked a 40-hour week, it would take you two years to watch all of it. A lot of time was spent just sorting through all of it ,and unfortunately cutting out things that were really good. We had to shorten it, get from here to there and make transitions. Of course, blending in the story of the assassination of Martin Luther King Jr. was a very delicate thing -- this film is unlike every other documentary film that goes back and examines music we know and love. They all start with a purpose ("Wrecking Crew," "Muscle Shoals," etc.), and talk to a lot of people you know -- and then you realize that there are a lot of people responsible for that music that you didn't know about. They have a lot of found footage and poignant conversations, and you hear the painful stories and some funny stories, and then you see a concert that is a watered-down version of what the film is about. With "Take Me To the River," we do brand new sessions with youthful artists and these older Memphis musicians, so there's a freshness to it. It's a recording that you're happy to listen to over and over again.
DL: Where does your work on "Take Me to the River" personally rank in your musical endeavors over the years?
JH: It ranks pretty highly. I think that one of the things this record does, is that it makes you smile; it gives you that feeling that records used to make you feel. I don't see people jumping for joy at a new release of music, like they did when I was an up-and-coming musician. There's something gone from it, there's an isolation of people listening with earbuds and mp3s or streams, or Sirius radio -- all of it cuts out all the depth of the music because it has to be so heavily compressed. And then you listen to that while you're distracted by other things. But seeing this film in a theater, surrounded by people, you can feel the laughter and the music.
DL: I have a confession to make: I had no idea you produced Live's album "Throwing Copper." That record was the soundtrack for an entire school year for me in sixth grade. When you're working on a project, like "Take Me to the River" or "Throwing Copper," do you always think it's going to be successful or is it always a surprise when they are?
JH: I think what's interesting about that is you try to believe so much in everything while you're doing them, so you always feel like something like that can happen. A few years later, when I listened to "Throwing Copper," I had a great feeling about it when we finished it. But for "The Distance to Here," [Live's 1999 album], we had too many songs. The album could have taken on a number of different shapes, and that was a real dilemma. If they ever put out "The Distance," Live would've been back as big as ever. The video was never made, and it was never a single, and that was huge mistake. The same thing happened with the Talking Heads. Warner Brothers spent a lot of money promoting "Burning Down the House." It was the first time they ever did that, and they put a lot of money into it but if they had managed to push "This Must Be the Place" after that -- which is a lot of people's favorite Talking Heads song, I mean, it was the theme song to "Wall Street" -- if they had done that and continued to promote it, our record sales would have been four times as much. In other words, they were shortsighted. Basically, there's a lot of ways for very good records not to happen.
DL: Any bit of advice for folks thinking about watching "Take Me to the River" but haven't done so yet?
JH: Everytime you watch it, you'll learn something new. Oh, and it's on Netflix now!
The Museum of Making Music (5790 Armada Drive, Carlsbad) will screen "Take Me to the River" on Friday, Sept. 16 at 7 p.m., followed by a Q&A panel. Tickets are available here. The 'Soul, Stax and Memphis Tracks: A Play It Forward Fundraiser' is Saturday, Sept. 17 at 6:30 p.m. Tickets are available here.