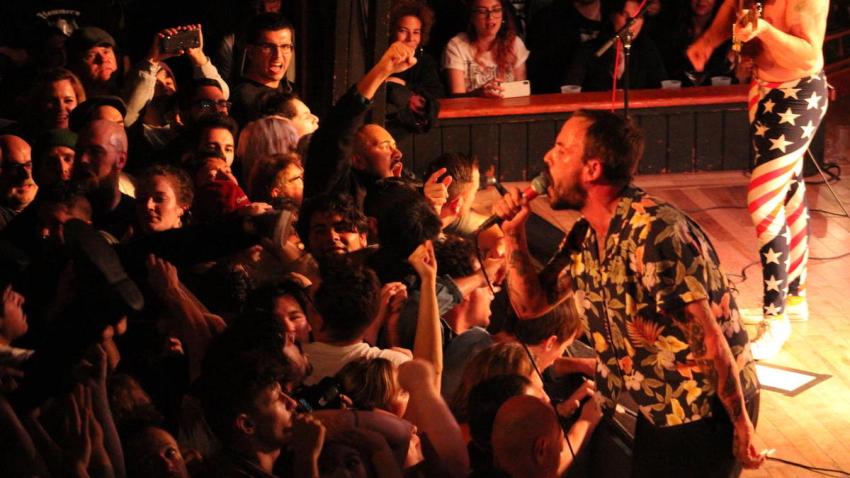 I had heard so much hype about Idles when they played the Belly Up earlier this year, I had to check them out. I hadn't experienced that crazy amount of energy at a show in quite some time, and I certainly had never seen a pit like that at the Belly Up. Tonight, the British punk band returns to San Diego with a show at the Observatory, and it's gonna be intense and awesome. At the Belly Up, alt-country rockers Son Volt return after releasing their ninth album, "Union," finding the veterans lyrically more relevant than ever. Around town, locals the Ghost Dance headline the Casbah (not to be confused with the British post-punks of the same name), Source bring progressive metal to Soda Bar and the Dave Gleason Band bring "California country 'n' rhythm" to Bar Pink.
Monday, Oct. 7:
Son Volt, Andrew Duplantis @ Belly Up
Idles, Surfbort @ Observatory North Park
The Ghost Dance, Wicked Echoes, the Smokes @ Casbah
Source, Shoot the Glass, Silent Vice @ Soda Bar
Dave Gleason Band @ Bar Pink
'80s Nite with DJ Junior @ The Merrow
1Take Jay, AzChike @ Music Box
Music Industry Mixer @ Queen Bee's
Motown on Mondays @ The Office
Starset @ House of Blues
Graham Gillot Band @ Crossroads, House of Blues (free)
Nathan Hubbard Trio @ The Athenarum (free, 12 p.m.)
Electric Waste Band @ Winston's
Blue Monday: Dark '80s Night @ Blonde
January Berry Band @ Humphreys Backstage Live
Julio De La Huerta @ Plaza Bar, Westgate Hotel
Salsa & Bachata Night @ Tio Leo's
Vinyl Night Open Table @ Border X Brewing
Open Mic with Jay Cain @ Mr. Peabody's
Andy & Nathan @ Martini's Above Fourth
Strictly Acoustic @ Navajo Live
Electric Relaxation: '90s Hip-Hop/Chill Beats @ Whistle Stop
Mic'd Up at Moonshine @ Moonshine Flats
Rosie's Jazz Jam w Louis V @ Rosie O'Grady's
Open Mic @ Lestat's
Game Night @ Henry's Pub
31 Flavors @ U-31
Rosemary Bystrak is the publicist for the Casbah and writes about the San Diego music scene, events and general musings about life in San Diego on San Diego: Dialed In. Follow her updates on Twitter or contact her directly.