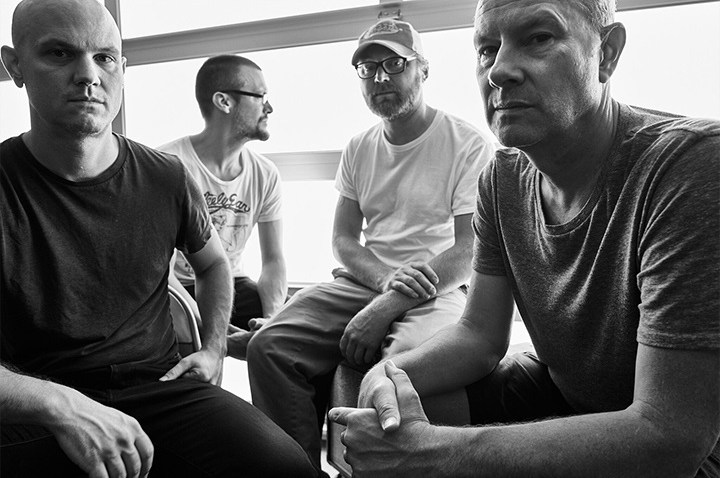 During Comic-Con, there are always pretty cool off-site events. One such event a handful of years ago was a "secret show" with Helmet on a rooftop. Everyone was clamoring to get tickets to that show. And with good reason. Helmet's unique style propelled them in the '90s alternative-rock scene and now, they're on this amazing 30-year anniversary tour with a 30-song set list. Catch it tonight at the Belly Up. It's not the only great one in town tonight, however. Rock en Espanol stars Zoé play SOMA, country crooner Luke Combs plays a sold-out show at Pechanga Arena, and Omar Apollo is back in town with a show at the Observatory North Park.
Thursday, Nov. 7:
Helmet @ Belly Up
Zoé @ SOMA
Luke Combs, Morgan Wallen, Jameson Rodgers, Dee Jay Silver @ Pechanga Arena (SOLD OUT)
Omar Apollo, Dijon, Silver Sphere @ The Observatory North Park
Sloan @ Casbah
Shawn James, Sam Houston, Blk Odyssy @ Soda Bar
Nicely, Bruin @ Whistle Stop
Seaport Sessions with Grampa Drew's Flim Flam Revue @ Seaport Village (music from 5-6 p.m., 7-8 p.m.)
DJ Old Man Johnson @ Bar Pink
Michael Seyer, Paul Cherry, Junior Mesa @ Voodoo Room, House of Blues
Taylor McFerrin @ The Loft, UCSD
Flavre Springs: Ice Box, Nico Castro, moodn, Davisn't, eespirits @ Space
Mitchum Yacoub, Divina Jasso (Boostive) @ 710 Beach Club
Moves Collective, STiG, the Charities @ The Holding Company
The Sickstring Outlaws @ Mr. Peabody's
The Locust, the Creepy Creeps, Silent @ Music Box
Boomboxx Thursdays with Crowd Collective @ U-31
Barbwire @ Humphreys Backstage Live
Nu Moods: Live Jazz Jusion Jam with Lexi Pulido, Louis Valenzuela, Rob Thorsen, Tyler Kreutel @ Quartyard
Jonathan Karrant in "Autumn in New York" @ Martini's Above Fourth
Jimmy Ruelas @ Seven Grand
Sammi Elston, Christopher Leyva @ De Oro Mine Co
Body Slacker, Silphos @ Bancroft Bar
Open Jam Session @ Winston's (6-9 p.m.)
Consider the Source: Metatour 2019 @ Winston's
Brite On, Levi Dean & the Americats, Alex Bergan, Bessie's Half, Trevor Todd @ Til-Two Club
Dave Gleason Solo @ Grand Ole BBQ & Asado
No Limits with DJ Myson King @ The Office
Bill Caballero Latin Jam @ Border X Brewing
Blink-180True, Green Today @ Moonshine Beach
Swing Thing @ Riviera Supper Club & Turquoise Room
Yung Heazy, Worn0Tin @ Queen Bee's
Open Jam with Jeff Ousley @ Navajo Live
Park & Rec Affect with GMRF @ Park & Rec
Tommy Price & the Stilettos @ Tio Leo's
Cumbia Machin @ Manhattan Bar
JD Crawford Band @ Renegade
Waka @ Fast Times (9 p.m.)
Rosemary Bystrak is the publicist for the Casbah and writes about the San Diego music scene, events and general musings about life in San Diego on San Diego: Dialed In. Follow her updates on Twitter or contact her directly.