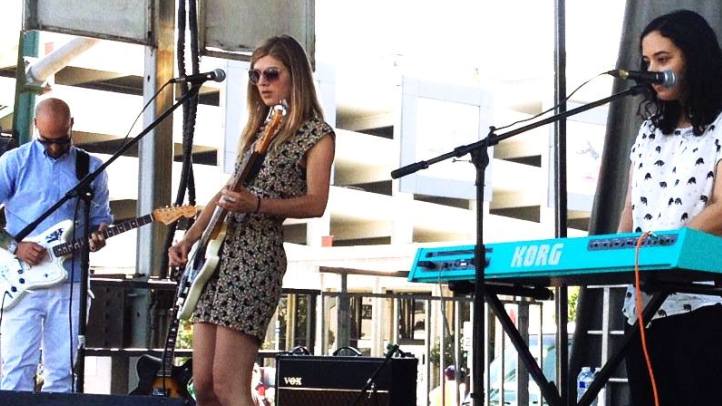 For the uninitiated, Film School was a band put together in the late '90s by lead singer Greg Bertens, who worked with members of F--- and Pavement for their debut album, Brilliant Career. After some lineup changes, Film School released their self-titled debut on seminal indie label Beggars Banquet Records, in 2003. The group was sort of a critics' darling since its inception, known for big, washed-out layers of sound; basically, Film School was indie rock at its finest.
SoundDiego
Music. Community. Culture.
Film School's last album, 2010's Fission (which was released on local imprint Hi-Speed Soul), solidified them as one of the up-and-comers in the indie-rock landscape, but it was also a slight departure for the band, since it featured new members Dave Dupuis on guitar and Lorelei Plotczyk on bass.
Sadly, it's been three years since we've heard from the band. Technically, they're still together but not active at all. Hopefully they'll regroup and soldier on at some point, but until then, we do have options: Dupuis (who has since left Film School) sings and plays guitar in the L.A.-based hard rockers
Nightmare Air
, and Plotczyk (currently still in the group) is the frontwoman and bassist -- one of our Top 11 Bassists actually;
check out our list here
-- for San Diego chillwavers
Bulletins
.
Both bands have been garnering their share of buzz in indie music circles, with Nightmare Air busting out of the gate almost immediately. They've toured with the Airborne Toxic Event, the Tennis System, played this year's SxSW and L.A's Tarfest. Their 2013 debut, High in the Lasers, packs a huge wallop, with massively layered guitars and enormous drums. This band is loud with a capital L, but the sound is thick and rich, and has a slight shoegaze feel to it.
Bulletins have been taking a slightly more reserved approach (much like their sound), splitting their time playing shows in San Diego and Los Angeles, and working on their debut album after releasing an online two-song single -- simply titled Demos -- earlier this year. But based on those two songs and only a handful of live shows, the band has received a heap of praise from various music 'zines and blogs, being pegged as a band poised to break out.
Plotczyk's dreamy vocals swim over melodic, bass-dominant songs while spacey synths/piano (courtesy of Susie Ghahremani) wash over the top of Luis Galvan's steady drumming. And coincidentally enough, today marks the online release of a brand new two-song preview of their upcoming 2014 debut album.
Check them out here
!
Normally, seeing either one of these bands would be highly recommended, but on Monday night, you'll have a chance to see both at the same venue: Nightmare Air, Foreign Resort and Bulletins all play Soda Bar, and it's a must-see show.
Oh, and bring earplugs -- you'll thank us later.
Dustin Lothspeich plays in Old Tiger, Diamond Lakes, Chess Wars and Boy King. Follow his updates on Twitter or contact him directly.