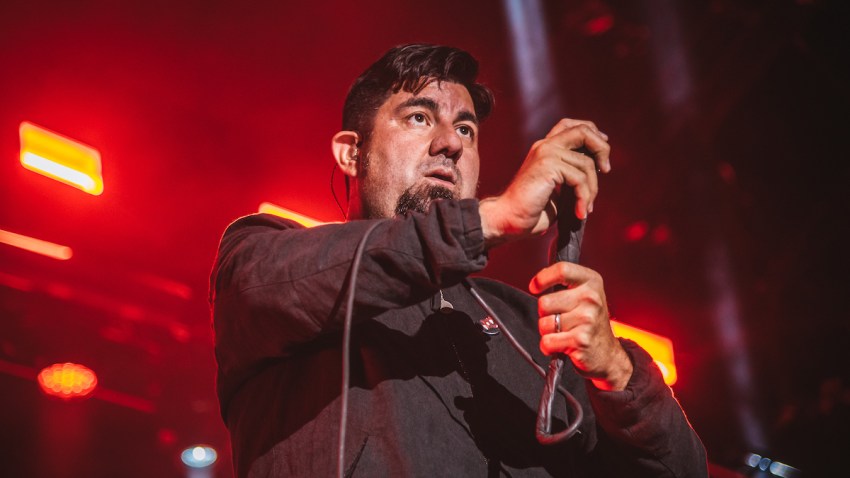 I'm gonna go out on a limb here and say that for better or worse, the celebration of Dia De Muertos is starting to outshine Halloween itself. Now maybe it's just convenient this year for how the calendar landed, but so many of us in the region identify culturally with Dia De Muertos that even if the meaning of the day gets a little mangled or lost in translation, the acknowledgement still feels like movement forward. Old Town, California Center for the Arts and the Sherman Heights Community procession are all notable celebrations. By night, Dia De Los Deftones returns to Petco Park, and this year's lineup is a super eclectic mix of bands, and I gotta say, I'm looking forward to Chvrches shining bright while taming the surely testosterone-heavy audience. Meanwhile, our pal Steve Poltz is back in town with a special show at Poway Center for the Arts, Black Mountain return to the
Casbah
for the first time in ages and Cults play their second night of the Soda Bar 10-year anniversary weekend. Maybe we'll have time to get there after Petco Park is all wound down.
Saturday, Nov. 2:
San Diego Beer Week Guild Fest @ Embarcadero Marina Park North (11:30 a.m.-5 p.m.)
Dia De Muertos @ Fiesta De Reyes, Old Town
Dia De Muertos Procession & Community Altars @ Sherman Heights Community Center ( 4 p.m.)
24th Annual Dia De Muertos Festival/Cultura Fest: Noche De Muertos @ California Center for the Arts, Escondido
Steve Poltz, Jack Tempchin @ Poway Center for the Arts
Dia De Los Deftones with Deftones, Chvrches, Gojira, JPEGMafia, Hum, Youth Code, Brutus, Megan Thee Stallion @ Petco Park at the Park
Black Mountain, Ryley Walker @ Casbah
Eagle Rock Gospel Singers, Malachi Henry & the Lights @ Pour House
Cults, Jacob Turnbloom, Beating (fka Beaters) @ Soda Bar
Noah Kahan, JP Saxe @ House of Blues
Felipe Esparza @ Humphreys Concerts by the Bay
The Spazmatics, Rockgarden @ Belly Up
GrampaDrew's Flim Flam Revue @ Whistle Stop (5 p.m.)
Low Volts @ Grand Ole BBQ & Asado (5-8 p.m.)
DJ Milky Wayne @ Bar Pink
DJ Professor Shadow @ Seven Grand
Three Chord Justice @ Grand Ole BBQ & Asado (1-4 p.m.)
San Diego Gulls vs. Colorado Eagles @ Pechanga Arena
Sayed Sabrina @ Dizzy's
Vis Vires, Rat City Riot, Mortalis, Claymore @ Ken Club
Lewis Black @ Balboa Theatre
Just Like Heaven '80s Night @ Blonde
Robin Henkel Jazz Quartet @ Panama 66
Through the Roots, Pacific Dub, Brothers Galvez, Cydeways @ Music Box
Anthony Wilson Quartet: Songs and Photographs @ TSRI
Tributo a La Reina @ California Center for the Arts, Escondido
SM Familia, Revival @ Winston's (9:30 p.m.)
Peter Pan @ California Center for the Arts, Escondido
XXV: the Silver Anniversary Exhibition @ California Center for the Arts, Escondido
Clinton Ross Davis, Mara Kaye @ Black Cat Bar
Payare Conducts Beethoven & Tchaikovsky @ Copley Symphony Hall
Penelope Isles @ Voodoo Room, House of Blues
Jackie Venson's "Joy to the World" Tour @ Art Soul & Horses Barn Concert
MA4 LIVE! with Soulfire @ Martini's Above Fourth
Mystic Ritual, Genestealer, Nibiru, Mortar @ Tower Bar
Kick-Stomp Ensemble @ De Oro Mine Co.
Glamourbomb @ Bancroft Bar
Stone & Friends Beer Week Celebration @ Quartyard (free, 6-10 p.m.)
Cassie B @ Moonshine Beach
Jerry Jacobs @ Moonshine Flats
All Men Are Brothers @ Winston's (5 p.m.)
The Rockabilly Shakeout @ Til-Two Club
Aniversario Discos Morocomix Y Kikin Dias @ Queen Bee's
Suffocation, Belphegor, Necronomicon, Abiotic, Gravespell @ Brick by Brick
Whitney Shay @ The Rabbit Hole
Dia De Muertos Celebration @ Border X Brewing
Custard Pie @ Wildwood Crossing
Bear Night San Diego @ The Merrow
Steph Johnson @ Plaza Bar, Westgate Hotel
Sideshow, Hyperactive Slackers, Tomorrow Can Wait @ Salty Frog
Strictly Business with DJs Edroc & Heminguey @ The Office
Country Brunch Live with Sickstring Outlaws @ House of Blues (10 a.m.)
Nathan Hubbard Quartet @ Riviera Supper Club & Turquoise Room
Anesthesia, Hey Ho Let's Go @ The Manhattan
Bulevar Descarga @ 710 Beach Club
Thump Juice Halloween Jam @ Rosie O'Grady's
"Art of Flamenco" Dinner Show @ Cafe Sevilla
Joe Kaplow @ Amplified Ales
Sound Vault @ Mr. Peabody's
Full Strength Funk Band @ Tio Leo's
Rising Star @ Humphreys Backstage Live (9 p.m.)
Dia De Los Tiki @ Park & Rec
Noizu @ Bassmnt
Detroit Love feat. Carl Craig, Stacey Pullen, Kenny Larkin @ Spin
Serious Guise @ Navajo Live
Ivy Lab @ Bang Bang
Shaffy @ Fluxx
Ascension Day of the Dead @ Kava Lounge
DJs & Dancing @ Henry's Pub
Rosemary Bystrak is the publicist for the Casbah and writes about the San Diego music scene, events and general musings about life in San Diego on San Diego: Dialed In. Follow her updates on Twitter or contact her directly.