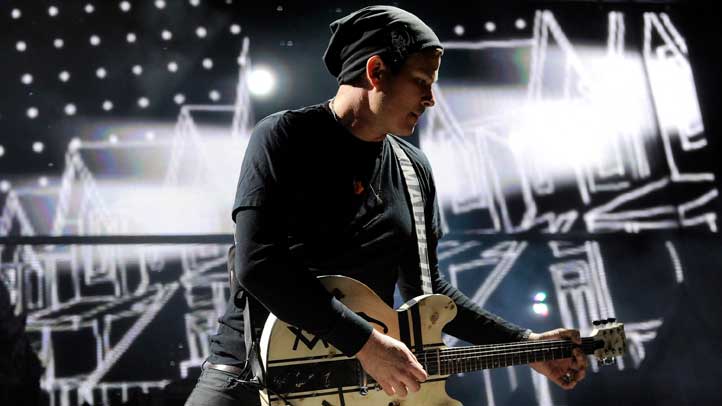 The biggest band to ever come out of Poway, Blink-182, is slated to play a benefit show Wednesday in New York City.
According to a statement on the Music Hall of Williamsburg's website, the pop-punkers' payday will go -- in its entirety -- to "benefit burn treatment centers, plus research and treatment for cancer, diabetes and other life-threatening diseases." This, just a day after Blink, perhaps best known for the albums "Enema of the State" and "Take off Your Pants and Jacket," played another benefit, at the Starland Ballroom in Sayreville, N.J., for Sandy Relief and a host of causes similar to those connected to the 9/11 show.
The beneficiaries of the 9/11 show will be the William Randolph Hearst Burn Center at the New York Presbyterian/Weill Cornell Medical Center, in Manhattan; and the City of Hope treatment Center, near Los Angeles, according to a statement on Blink's Facebook page.
"When we saw that we would have a day off in the NYC-area on Sept. 11, we knew we had to book a special show," frontman Tom DeLonge is quoted on the Brooklyn venue's website. "It's been a long time since we've played a small venue – so it'll definitely be something special for the fans. What makes it even better is that we can do it while raising money for charity."
The Music Hall holds between 500-600 people.
DeLonge wasn't the only band member looking forward to playing the show.
"Real talk: Stoked to play Starland Ballroom tonight, destroyed and rebuilt after Sandy, and honored to play Brooklyn for charity tomorrow," guitarist Mark Hoppus tweeted on Tuesday.
There can be little doubt about the band's sympathies for burn victims – drummer Travis Barker was severely burned in 2008 in a jet crash in Van Nuys, Calif., that also injured DJ AM (whose real name was Adam Goldstein), a celebrity DJ who later died of a drug overdose. Four other people were killed in that crash.