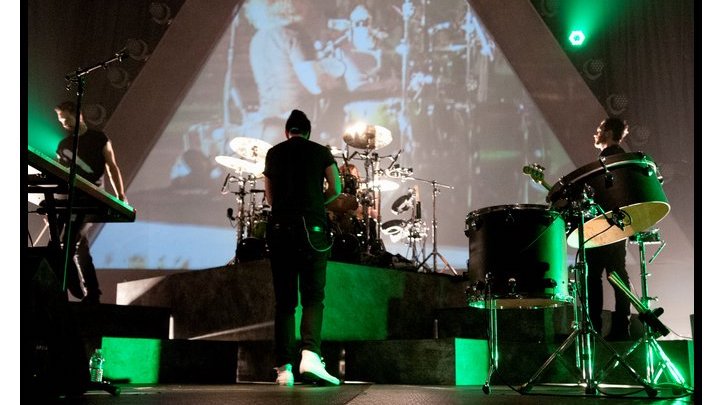 I thought after this big busy weekend that Sunday would be a day of rest, but that's just not in the cards when there's this much great music in town. Bastille, whose debut a few years ago rapidly shot them into rock stardom, play at the Open Air Theatre while trip-hop pioneers Morcheeba play a sold out show at the Belly Up. There's a super cool event presented by UCSD's ArtPower with Choir! Choir! Choir! performing at Border Field State Park. If I understood correctly, there will be musicians on both sides of the border, bridging the imaginary and literal divide between San Diego and Tijuana. Daytrip play the Casbah, Brick + Mortar are at Soda Bar and Mexican legend Lila Downs performs at Balboa Theatre.
Sunday, Oct. 13:
Art San Diego @ San Diego Convention Center
Bastille, Joywave @ Cal Coast Credit Union Open Air Theatre, SDSU
Morcheeba, Earth Moon Earth @ Belly Up (sold out)
Choir! Choir! Choir! @ Border Field State Park (3 p.m., free, registration required)
Daytrip, Blacks Beach Boys @ Casbah
Brick + Mortar, Dentist @ Soda Bar
Mayday, 1 Ton @ Soma
J Balvin, Lyanno, Eladio Carrion @ North Island Credit Union Amphitheatre
Funk Jam @ Panama 66 (6-8 p.m.)
Collie Buddz, Keznamdi @ Observatory North Park
Soul Club Sunday Matinee featuring the Revivers @ Space
Acoustic Sundays Karlos Paez @ Border X Brewing (3 p.m.)
Lila Downs, Grandeza Mexicana Folk Ballet Company, Mariachi Feminil Flores Mexicanas @ Balboa Theatre
Damien Escobar @ House of Blues
Country Brunch Live with Sam Hosking @ House of Blues
Gospel Brunch @ House of Blues
Kishi Bashi, Takenobu @ Music Box
Surf-Rider Foundation Benefit Show with Psychic Barber, Foxtide, Backseat Lovers @ Che Cafe
Rat Sabbath with DJ Ratty @ Bar Pink
Robin Henkel Band @ Lestat's
Hold Jovi @ Bancroft Bar
Romeo and Juliet: Pacific Lyric Association @ California Center for the Arts, Escondido
Babette's Bingo Brunch @ Martini's Above Fourth (11 a.m.)
Keep It on the DL @ Martini's Above Fourth (7 p.m.)
Girls Night Out @ Winston's (7:30 p.m.)
Fish & the Seaweeds Psychedelic Sunday @ The Holding Company (4 p.m.)
The Shadow Movement @ The Holding Company (8 p.m.)
Jazz Jam with Anthony Ortega @ Mr. Peabody's
Front Left Productions Spin After Party @ Blonde
Dulaney & Co @ Pour House (9 p.m.)
Trevor McSpadden @ Grand Ole BBQ & Asado
Jerry "Hot Rod" Demink @ Crossroads, House of Blues (free)
Salsa Sundays @ Queen Bee's (all ages)
Weekender presents LadyLush, Colette, Red Sonya, Arielle Z, Alina @ Quartyard (3-8 p.m.)
Les Allen & City Limits Band @ Renegade
Reggae Sunday with Johnny Luv, Black Pearl Reggae @ U-31
Uptown Top Ranking @ The Office
Backyard Boogie! @ Park & Rec
The Delphonics, DJ John Phillips @ Humphreys Backstage Live (6:30 & 8:30 p.m.)
Rooftop Roots 004 with Dance Spirit & R. Fentz @ Spin (3 p.m.)
Rosemary Bystrak is the publicist for the Casbah and writes about the San Diego music scene, events and general musings about life in San Diego on San Diego: Dialed In. Follow her updates on Twitter or contact her directly.