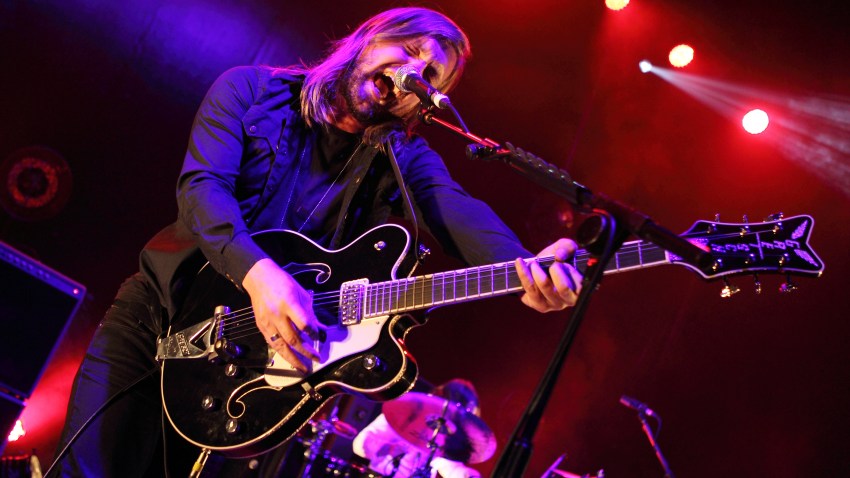 It was a short week, but anyone who works a full-time job knows that a holiday weekend only means more work during the work week, so this Friday is especially welcome over here. And the bonus is that Band of Skulls are playing the Belly Up. Early in their career, the rock trio frequented our small clubs, but as they rose, their tours have been fewer and far between, so to see them back at the Solana Beach venue is a definite treat. Around town, the B-Side Players get down with a free concert at Liberty Station, veteran pop-goth act Aesthetic Perfection kick off their tour at the Casbah, and Jerry Paper brings his quirky electronic pop jams to Soda Bar.
Friday, Sept. 6:
Band of Skulls, Demob Happy @ Belly Up
B-Side Players @ Liberty Station
Aesthetic Perfection, Amelia Arsenic, Relic @ Casbah
Jerry Paper, Mamalarky @ Soda Bar
Maluma @ Pechanga Arena
Ying Yang Twins @ The Holding Company
The Amandas @ Whistle Stop
Polux, Wicked Echoes, Mario Esteban & the Blessed Hellhounds, Machine Politik @ The Merrow
Lil Tracy @ SOMA
First Friday with DJs Artistic, Cros1, Johaz @ Bar Pink ($5 after 11 p.m.)
The Mochilero All-stars @ Panama 66
Mike Pope, Roger Molina, Jason Meyers, Reverend Stephan Sams, Sylvia Grape @ Black Cat Bar
Tomorrow Can Wait, Smarter Than Robots, Something Contagious, Getaway 95, Static on the Stereo, Home Is West, Grey Illusion @ Brick By Brick
Hip Hop vs. Punk Rock with the Fictitious Dishes, Opoetik & Evolve, Sloat Dixon, Them Cuts, resident DJs Sesh, Mr Henshaw, Unite, El DJ de TJ @ Tower Bar
Sonoda, Miles Bandit, Glympse @ The Che Cafe
Chris Del Priore @ Grand Ole BBQ & Asado
Boostive, Arnny Paulmer & the Caddies, the Lavender Fields @ Winston's
Power of Love @ Seven Grand
Seth Cook @ Moonshine Beach
Jerry Jacobs @ Moonshine Flats
The Tale @ De Oro Mine Co
Oso Oso, the Sidekicks, Future Teens @ Voodoo Room, House of Blues
Electric Feels: Indie Rock + Indie Dance Party @ House of Blues
Hidden City Sounds: The Redwoods Revue @ California Center for the Arts, Escondido
Rock en Espanol with Zenith: Rayito's 4th Birthday Bash & Baja Animal Sanctuary Fundraiser @ Border X Brewing
Pocket Size Buddha @ Rosie O'Grady's
Just Can't Get Enough New Wave Party @ Blonde
Rituals (coldwave dark '80s post-punk) @ Space
Nightbloom @ Indian Joe Brewing
Grateful Shred @ Music Box
Zamman @ Pour House (9 p.m.)
Bonneville 7 @ Pour House (5 p.m.)
Gilbert Castellanos @ Plaza Bar, Westgate Hotel
Project Out of Bounds with special guests Melapelus & Skanks Roots Project @ 710 Beach Club
Janice Edwards Trio @ Martini's Above Fourth
5150 Rangers @ Wildwood Crossing
Nite Moves with DJs Beatnick & Ayla Simone @ The Office
Taryn Donath Duo @ Riviera Supper Club & Turquoise Room
Violent Traditions, 21 Gun Salute, Pissed Regardless, Dead on the Wire @ Til-Two Club
All-Vinyl Happy Hour w/Monsieur Turbeau @ The Office (6 p.m.)
Full Strength Funk Band @ Tio Leo's
BJ Jezbera & the Bad Mother Folkers, the Tones @ Salty Frog
Linda Rae & Breakheart Pass @ Renegade
Osiria, Yujin, Til I Fall, Lost Dakota @ Himmelberg's
Platinum Vibe @ Humphreys Backstage Live (9 p.m.)
Michele Lundeen @ Humphreys Backstage Live (5 p.m.)
Anthem, American Idiots @ Navajo Live
David Ellefson's Basstory @ Ramona Mainstage
En Stereo Total: '80s and Rock en Espanol! @ Manhattan Bar
"From Gypsy to Belly Dancing to Flamenco: The Journey" @ Cafe Sevilla
Grand Sonic Theory, DJ Moniq @ V Lounge, Viejas Casino
Finesse, DJ Moniq @ Lobby Bar, Viejas Casino
Fundamental: Kike Mayor, Camelia, Lauta Peck, Dylan Payne @ Spin
Dante @ Parq
ALbeats @ FLUXX
Rosemary Bystrak is the publicist for the Casbah and writes about the San Diego music scene, events and general musings about life in San Diego on San Diego: Dialed In. Follow her updates on Twitter or contact her directly.