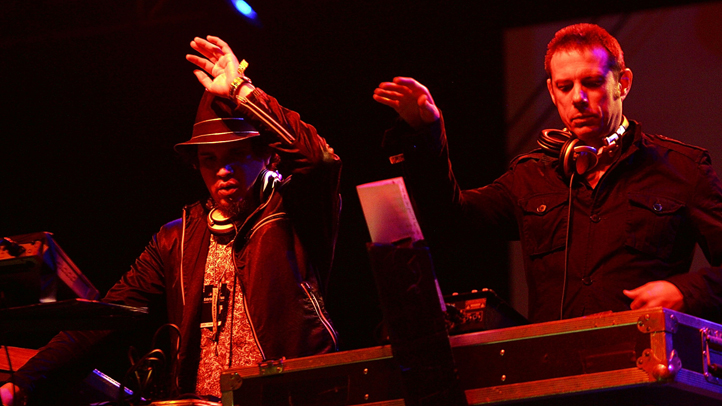 The Thievery Corp. played at the House of Blues on Sept. 7, but when it came time for the show the following night, San Diego was in the midst of a countywide power outage, and the band left town without peforming. Thievery Corp. returns on Sunday to HoB for a make-good show, with tickets for the Sept. 8 show being honored. Then, improbably, flooding in the venue prompted that show to be canceled, too. That show was rescheduled, too, for Monday, Sept. 19. There were still a few available on Monday night, we were told.
Below is our preview interview with Rob Garza, which was originally published on Sept. 4. -- Ed.
---
Long before the doors close on a pair of Thievery Corp. shows next week at the House of Blues, the bodies will pile up, blown away by the beats.
The D.C.-identified duo of Rob Garza and Eric Hilton have been at the electronic music gates since 1995, blending reggae, dub, Middle Eastern, a heavy dose of Brazilian and a dash of everything else in the pipe. Along the way, they've picked up more than 300,000 fans on Facebook and a global following. As much as their music has matured, it's still familiar to the fans who've been listening for 15 years.
"Our album's are very genre-bending, kind of go through all these different styles -- I think on the first record you see that and it's still kind of true," Garza said on Tuesday from his new hometown of San Francisco, where he lives with his wife and their 1 year old.
"My lady's from out here, so I was spending more time here, and I was like, 'Hey, I like it out here,' " Garza said, explaining how he was seduced by California.
If you've bought one of the $50 tickets for the show, you may well end up getting more than your money's worth, at least per capita, as it were.
"We have about, let's see, about 14 people onstage or something," Garza said. "There's about five singers, they come on at different times. It's not all at the same time, which would be a little claustrophobic."
Thievery Corp. have been regular visitors to the county over the years, with shows last year at UCSD and in 2009 at Street Scene. When they're out here, Garza said, they mainly hang out with friends.
"A few times when we were out there, we went to the beach," Garza said. "Our bass player used to live in San Diego and he took us around, He used to be in a band out of there."
Garza said there are plans in the works for an after party following the HoB shows, but, sorry, he doesn't know where yet -- or he isn't telling.