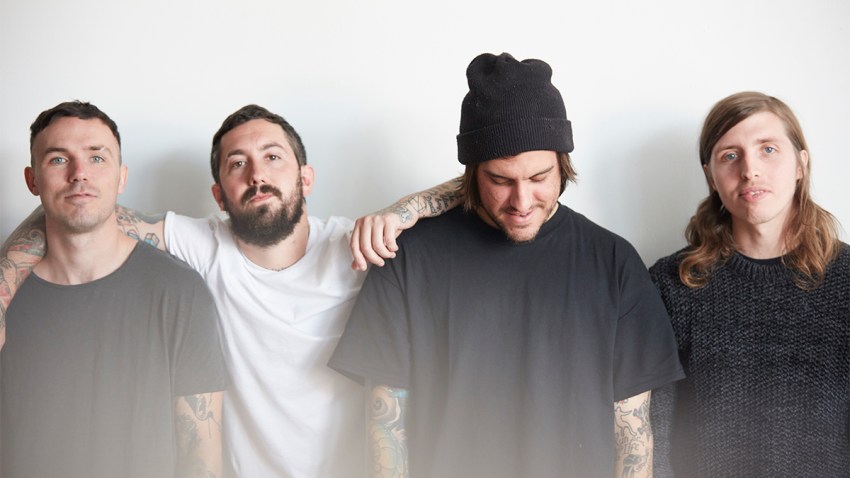 When I get Nothing's frontman, Domenic "Nicky" Palermo, on the phone for our interview, he's in the middle of helping the band load their gear into that night's venue, Boise's Neurolux. I can hear the bustle on the other end of the line and the voices of other band members asking questions; Palermo breathes into the phone every now and then. He apologizes for the interruptions. Turns out he's also freezing.
"My underwear is soaked," he said. "We just went swimming in a creek in Idaho that we found."
Turns out a person's unmentionables end up being priceless commodities on the road -- a lesson Palermo recently found out the hard way.
SoundDiego
Music. Community. Culture.
"We had our windows broken into in Chicago after we sold out Sub T," he lamented. "It kinda sucked. They stole all my clothes. I was clothes-less for about a week, before I was capable of finding underwear and socks. I literally had three different things in the car and they were in three different places and they got all of my stuff and nobody else's [laughs]. They also got my lyric book that I was kinda bummed out about. It had the lyrics to this record and our last record, and a bunch of stuff I had written and now it's all gone. That was pretty crushing."
If you've followed Nothing since their critically acclaimed 2014 album "Guilty of Everything," the Philadelphia band's history has been tinted with a sense of enduring bad luck. Palermo's previous hardcore band Horrow Show came to an abrupt end in 2002 when he was incarcerated for two years following an aggravated assault conviction. Following his release, he took a five-year hiatus from music, but when he started up Nothing in 2010, the pieces quickly started to fall into place. Then, he was mugged and brutally beaten while on tour in Oakland just last year. After a fractured skull and orbital, 19 staples, a lengthy hospital stay and the mountain of personal debt that went with it, the singer/guitarist emerged from it all with a renewed sense of cynicism, sure, but also with inspiration for the band's latest album, 2016's fittingly titled "Tired of Tomorrow," which will surely find its way onto many year-end best-of lists. [Buy/listen to it here]
However, the bad luck wasn't done with Nothing yet. In fact, it was just one of their most recent bouts. Last year also found the quartet (which apart from Palermo is comprised of bassist Nick Bassett, guitarist Brandon Setta and drummer Kyle Kimball) mired in the wicked web of infamous internet super villain, Martin Shkreli, who had then made headlines for purchasing the AIDS drug Daraprim and inflating its price by 5,400 percent. Apparently, Shkreli had also supplied funding for Collect Records -- the label due to release "Tired of Tomorrow." In an admirable move, Nothing abruptly left the label when they found out about the connection, but this departure left them without a way to release and distribute their new album. In yet another additional punch to the gut (and heart), Palermo's father passed away in a tragic accident last November. Needless to say, the frontman has had a rough go of it for a while. When discussing the aforementioned Chicago robbery, he understandably sounded rather resigned.
"These things just continue to happen," he said. "I just have the worst luck, I don't know what to say. You know, you just roll with the punches."
If there's one spark of light to come out of all that darkness, it's that Relapse Records (which originally released Nothing's debut record and is home to Black Tusk, Red Fang, Obituary and Exhumed) stepped in last year to re-sign the band and release "Tired of Tomorrow." According to Palermo, it's been a very prosperous relationship.
"That label has always been about breaking boundaries and being an extreme music label. People have got it so twisted now. By 'extreme,' people think it has to be Cannibal Corpse or s--- like that, but they're a progressive label, and they took a chance with us, and a lot of people had things to say, but for the most part, it's been a real big success. They're what labels should be about."
The partnership is a curious one, primarily because Relapse is known for championing brutal, riff-hungry metal acts. Nothing, while known for pushing the extremes of onstage decibels (and actually shutting down power in many venues they've played), don't really fit into that mold and instead mainly mine the woozy treasures of shoegaze-influenced post-rock. Much like My Bloody Valentine's Kevin Shields, Palermo's vocals rarely rise above a serene, measured moan; thick guitars are stacked ad infinitum like "Siamese Dream"-era Smashing Pumpkins and reverb and echo wash over the songs like an eerie, dangerous drive through dense, rolling fog. In other words, it's basically the blueprint to some pretty epic shoegaze. But the band's frontman is quick to note that they're students of a wide range of music.
"It's not difficult to see the stuff that's triggered us…But the band has always wanted to progress. That's been a thing for us since day one. There's a little bit of straight ahead '90s rock stuff like Screaming Trees, Collective Soul, but it doesn't stop there. Of course, we've always been into the British shoegaze thing with Ride, Chapterhouse, Slowdive, My Bloody Valentine -- but also Brit-pop stuff, like Suede, Oasis, the Boo Radleys, s--- like that. It's everything. Also being punk kids and hardcore kids, a lot of the old punk bands are influential to this music. But we try not to write anything specifically like anything. We write music that we want to be writing."
That attitude has kept him and his bandmates grounded and focused ("We're a pretty honest band. There's no gimmick. And I think people respect that"), but it also makes for genuine, heartfelt music that feels like more than the sum of its parts, which at its basic level is loud, melodic, emotional and intense. But hey, you don't have to tell Palermo that. He knows it. And you can hear the pride in his voice when he talks about his band and the new album.
"There's a ton of s--- that I really enjoy on ['Tired of Tomorrow']. Easily my favorite song on the record is 'Ninety Ninety Heaven.' 'Fever Queen' is a wonderful opener. Everything we wrote for this album, we recorded. All 14 tracks. Everything we pump out is gold, man. [laughs] It's just that easy."
It's nice to see him joking around, with all that bad luck that seems to follow them like some sort of expert level voodoo curse. It begs the question: has it all taken a toll?
"My experiences have been kind of back and forth," Palermo said. "But if you don't step back and take a look at things, you're potentially just going to drive yourself crazy doing this s---. If there is a silver lining, I have to remember I'm getting paid enough money to survive by doing what I like to do -- which is make music."
Nothing headline Soda Bar on Wednesday, June 22, with Wrong and Culture Abuse opening. Tickets are $14 online here.

Dustin Lothspeich books The Merrow; plays in Diamond Lakes and Boy King; and runs the music-equipment-worshipping blog Gear and Loathing in San Diego. Follow his updates on Twitter or contact him directly.