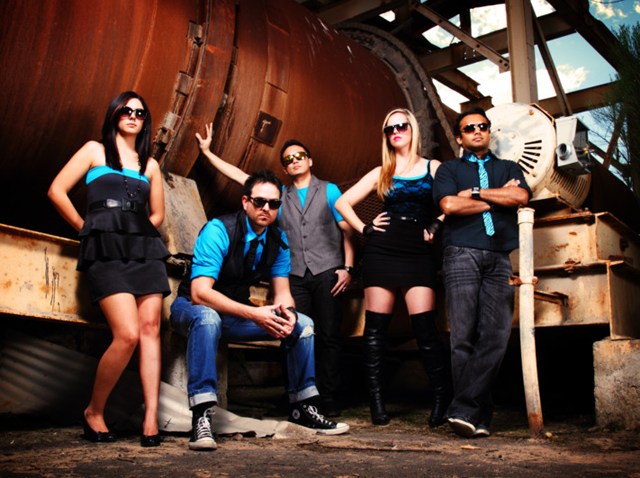 I love the '80s!
That was the name of a TV show, we think. But do you know who else loves the '80s? The locals in 321 Stereo, whose infectious brand of technicolor pop has been inspiring San Diegans to dust off their leg warmers and hit the dance floor. The band's friendly, communal vibe is reminiscent of the B-52s, and 321 Stereo's music is just as energetic.
There aren't many local bands keeping the New Wave flame burning, but 321 Stereo are clearly doing something right. They were just nominated for the second year in a row for a San Diego Music Award (the ceremony is Aug. 8). In anticipation of their taking home the Best Pop Band award, we asked lead singer Aubrey King to list her influences for us:
SoundDiego
Music. Community. Culture.
I'm a sucker for anything acoustic: Artists like Damien Rice and Ray Lamontagne have had a major impact on me, and their music never seems to lose its power when I listen to it. "The Blower's Daughter" by Damien Rice is my favorite song of all time. Its simplicity is hauntingly beautiful.
Alanis Morrisette, Kelly Clarkson and Fiona Apple are some of the women whose lyrics are so relatable to many, and their voices are unmistakable. I really admire them. Jagged Little Pill by Alanis Morrisette was the first CD I ever bought, and it's the basis of how and why I write to this day.
Music that automatically makes you get up and dance! Katy Perry and Lady Gaga seem to have that mastered right now. I love them both. They also have a really fun and a quirky style of writing.
My 7 pound chihuahua/terrier mix, Rocky! He reminds me every day that I'm loved unconditionally, and he loves to listen to me sing. He always makes a bad day go away.
Chris Maroulakos is a writer and managing editor for the San Diego music blog Owl and Bear.