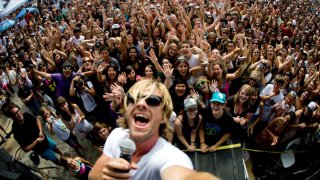 "With a heavy heart, we've made the difficult but necessary decision not to host the in-person Bro-Am events this June," stated a Facebook post Friday by the organizers of Switchfoot Bro-Am.
A message posted a few weeks back had stated that organizers were still looking forward to hosting the events but paying stipulated that they were paying close attention to recommendations from the Centers for Disease Control and other authorities who would have to give the green light for such a massive public gathering amid coronavirus concerns.
"The heart of Bro-Am is to support those in need and in the midst of this global pandemic, staying home is the best way to do that," Friday's message continued.
The Switchfoot Bro-Am, which began in 2005, has grown into a massive annual event at Moonlight Beach, in Encinitas, and now includes a benefit party/silent auction usually held at the Belly Up, as well the free beach festival, which features a surf tournament and vendors, and concludes with a live concert at Moonlight Beach in Encinitas, typically drawing thousands of attendees annually. Switchfoot, of course, headline the concert.
"[The festival started] as an implausible dream: a dream that three of our favorite things (surfing, music and the local community) could collide for a day in a way that gives back to the town that has given us so much," Jon Foreman, frontman of Switchfoot, wrote a few years ago.
Friday's message is one of solidarity and a continuing emphasis on community and charity.
"While we can't physically be together for our annual community hug this summer, we can still keep the heart of Bro-Am beating by helping kids in immediate need-- this is why we exist!" the post continued. "Our friends at Feeding San Diego are working diligently to meet the rapidly increasing need for food during the Covid-19 pandemic."
Even without the in-person events, the Bro-Am Foundation is supporting Feeding San Diego with fundraising efforts. They've kicked off a fundraiser by donating $5,000 and requesting community donations, which will be matched up to a million dollars by the Gwendolyn M. Sontheim and the Aqualia International Foundation LTD.
"The Bro-Am community has supported this incredible organization for many years, and they need our support now more than ever," organizers said on Friday.
In an earlier message, when the event was still uncertain, perhaps they said it best: "Hang tight and love the ones you're with."
If you're in a position to donate, you can do so at the Feeding San Diego Covid-19 Response Fund.
Switchfoot'' Jon Foreman sent SoundDiego the following statement on April 6:
The Bro-Am has been such an incredible event for years - bringing the community together to support homeless and at-risk youth in our hometown for a decade and a half. So it's extremely disappointing to not host our in person events this June. But it's the right thing to do. Getting 17,000 people together on the beach of our hometown in just a few months doesn't feel responsible nor loving to our community.
For years, the Bro-Am organization has supported Feeding San Diego and their efforts to provide food to kids in need. Right now, their need is greater than ever. So we have shifted our focus to help raise funds and awareness for them through a social media campaign. 

A huge thanks to our community for understanding and for continuing to support these incredible kids. Thanks to all of you, the heart of the Bro-Am is still alive and well, helping kids thrive even during the Covuid-19 pandemic.
peace,
jon