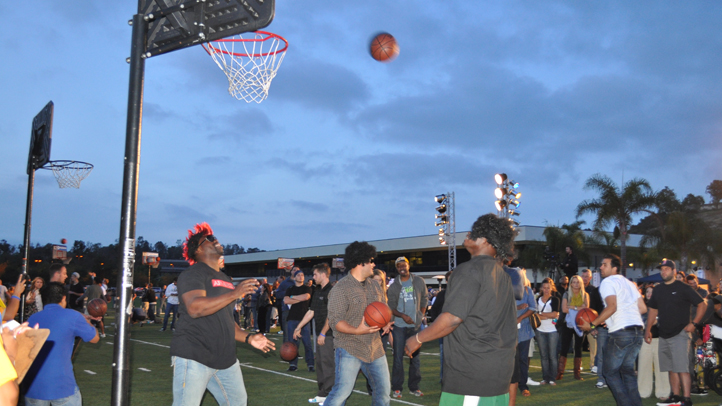 What is Huntington's disease?
That's what many would say when asked whether they know about the genetic disorder that attacks certain nerve cells in the brain. On Friday, June 3rd, NBC San Diego took part in a fun-filled event that aimed to raise awareness of this disease and work towards finding a cure. San Diego's Huntington's Disease Society of America collaborated with the Chargers and Qualcomm to organize a special event called Shoot to Cure HD. Launched in 2002 and held at Charger Park, Shoot to Cure HD connects Charger players and Charger Girls with the teams that have donated to bring their players to compete in an exciting free throw tournament.
The weather couldn't have been better, as the afternoon moved into evening; attendees enjoyed an array of samplings from San Diego's favorite restaurants. Live auction items courtesy of the Chargers rallied some last minute dollars for the cause, and basketballs flew well into the night.
As terrible as this disease that affects more than a quarter of a million Americans today is, the Huntington's Disease Society of America did an incredible job at organizing an event that educated the community, rallied for support and fundraised while inspiring a joyful and competitive spirit from everyone involved. Even though our NBC San Diego team only advanced one round, we left with the resolution to come back stronger next year and continue to support this remarkable cause.
To learn more about HD and how you can help, visit http://www.hdsasandiego.org/.
Check out pictures from the event!