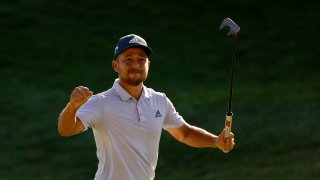 Xander Schauffele celebrated his one-year wedding anniversary Sunday with a dramatic victory in the Travelers Championship.
The Olympic champion won with a three-stroke swing on the final hole, hitting to 3 feet for birdie after rookie Sahith Theegala took two shots to get out of a bunker and made a double bogey in the group ahead.
A stroke in front entering the day, Schauffele finished with a 2-under 68 at TPC River Highlands to beat Theegala and J.T. Poston by two strokes. Schauffele had a 19-under 261 total.
"My mind was telling me to hit a good drive and then use your sand wedge or lob wedge in there and make birdie," Schauffele said. "To sit there and watch what happened was a bit of a shock, obviously. I really had to try and focus on the task at hand."
Theegala shot a 67, and Poston had a 64.
Schauffele won for the sixth time on the PGA Tour and the second this season after teaming with Patrick Cantlay to win the Zurich Classic of New Orleans in April. It was his first ever win after having a 54 hole lead.
Theegala was lurking near the top of the leaderboard all day and grabbed a share of the lead on 15, driving the green on the par-4 hole and making a 4-foot birdie putt. He overtook Schauffele with an 11-footer for birdie on 17, pumping his fist.
But the former Pepperdine star had a bogey-free round going until his tee shot on 18 left and into the front of a fairway bunker. He needed two tries to get out of the sand.
"Somehow my body just, I just straight bladed it," he said. "I had room there. I don't know how it looked, but I had room there. Just didn't think I would let myself blade it. But I guess the moment was — and then from there it's, like, got to try and make 5 now."
His 12-foot bogey putt lipped out, and he fell to his knees in agony.
"I did everything I thought I had to do and it just happened to be everything bad culminated on one hole," he said. "I did so much good."
Schauffele was consistent Sunday with two birdies and a bogey on the front before mirroring that score on the back.
He takes home just under $1.5 million, not a bad gift for a celebration he plans with his wife, Maya.
"It's actually happy anniversary," he said. "It's my one-year anniversary with my wife. So I'm going to go try and get home and see my wife."