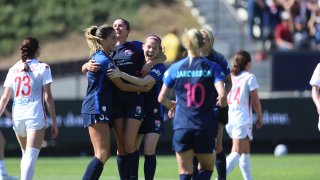 Every team in the National Women's Soccer League (NWSL) is looking up at the San Diego Wave FC.
The Wave FC are the only team in the NWSL with 3 wins.
With a record of 3-0-0, the first year franchise in San Diego is atop the league standings with 9 points.
The Wave FC's latest victory came Sunday at Torero Stadium in front of 5,000 fans, as San Diego beat the Chicago Red Stars 2-1. It was the Red Stars first loss of the season.
After a scoreless 1st half that saw the Wave fail to find the net despite numerous chances, they finally cashed in in the 58th minute. Wave forward Sofia Jakobsson was taken down in the box, resulting in a penalty kick. Alex Morgan took the PK and hit a low left footed shot that eluded the Chicago keeper for the first goal of the match.
In the 89th minute, the Wave FC added to their lead when Kaleigh Riehl found herself alone in the box on a designed set piece when the ball arrived in from Kelsey Turnbow. After controlling the ball with her chest, Riehl slotted the ball into the right corner of the net to make it 2-0 Wave FC.
"It was a great set piece, it was different than what we had been doing, our other one's weren't really working so we changed it up," said Riel. "I just found myself wide open and put it away."
SportsWrap
The top sports headlines of the day
For Riel it was her second goal of the season, her previous goal against Angel City in the Challenge Cup, was the first goal in team history.
Chicago added a goal a goal in the 90th minute, but the Wave FC defense did not give up the equalizer.
The Wave FC out shot Chicago 19-9.
San Diego will take their winning streak on the road to Kentucky when they face Racing Louisville FC on Wednesday at 4:30pm PT. It begins a stretch of four-straight road matches before the club returns home to Torero Stadium on June 8th vs. Portland Thorns FC.