Day 8 of the Tokyo Olympics -- which is July 31 in Tokyo and from 4 p.m. on July 30 to 7 a.m. on July 31 in San Diego time -- gave us nonstop action. Team USA archer Brady Ellison -- who trains in Chula Vista -- is sharply focused on that gold, while track and field events are on the move. Meanwhile, Team USA wants even more domination in the pool, and there's more water polo and baseball to be had. Here are five events to watch at the Tokyo Olympics on July 31, 2021.
1) Team USA Archery: Brady Ellison Looks to Stay Sharp
Team USA archer Brady Ellison – who lives and trains out of Chula Vista in San Diego County – fell to Turkey's Mete Gazoz 7-3 in the men's individual archery quarterfinals Saturday morning.
Ellison – as well as Chula Vista-trained Mackenzie Brown – cruised through the early rounds of the individual competition earlier this week.
His loss means Ellison is coming back to the U.S. without a medal.
Ellison, who is the best Archer in America, started off the match dropping the first set 27-26, and splitting the second set, 28-28.
Ellison won the third set 28-27 but dropped the last two sets to just fall out of contention for a medal. Gazoz had a perfect score of 30 in the last set, hitting 10's on all three arrows
Ellison is the reigning world champion in his sport, ranked No. 1 in the world. He has two silver medals in Olympic team events from past games, along with an individual bronze medal from the Rio Olympics.
Top-Ranked Team USA Archer Brady Ellison at Tokyo Olympics: What to Know
By the way, Ellison joined our Olympic Dreams: San Diego to Tokyo podcast before heading off to the Tokyo Olympics. He talked about training, healing, and so much more. LISTEN to his episode below:
Listen/Subscribe to NBC 7's Olympic Dreams: San Diego to Tokyo podcast wherever you enjoy listening to podcasts. On each episode, NBC 7 News Today anchor Steven Luke will sit down with athletes in their prime, each with their sights set on one thing: representing Team USA in Tokyo this summer. How will they achieve their Olympic dreams?
2) Women's 100m Highlights Big Day on the Track
The race that will crown the world's fastest woman takes place on Day 8 of the Tokyo Olympic Games. While it is certainly the most high-profile race of the evening, there are plenty of noteworthy events happening in track and field.
Teahna Daniels ran a personal best of 10.98 to finish third in the final heat of the women's 100m semifinals.
Jenna Prandini, who replaced Sha'Carri Richardson in the women's 100m semifinal finished fourth and will not qualify for the final. Prandini crossed the finish line in 11.11 seconds behind Great Britain's Dina Asher-Smith, Switzerland's Ajla Del Ponte and Jamaica's Elaine Thompson Herah.
Sprinter Blessing Okagbare from Nigeria was suspended, and is now out of the Olympics, after a positive test for human growth hormone. She was set to compete in the women's 100m semifinals on Saturday.
Okagbare tested positive in an out-of-competition test on July 19, but the Athletics Integrity Unit only found out on Friday.
Okagbare had already run in the 100m heat, which she won in 11.05 seconds to progress to the semis.
Watch the first session in NBC's primetime coverage, or stream live at 3 a.m. PT here or with the link below:
Stream the second session live here or with the link below.
3) Caeleb Dressel, Katie Ledecky Want More Team USA Domination in the Pool
Caeleb Dressel and Katie Ledecky highlighted another strong night for Team USA in swimming. In the first of Dressel's three Olympic swims on Friday, he won gold in the 100m butterfly with a time of 49.45 seconds, improving on his own world record. Meanwhile, Kristof Milak of Hungary took silver and Noe Ponti of Switzerland took bronze.
Kaite Ledecky won the 800m for the third straight time, giving her six individual gold medals in her career, the most of any female swimmer. Ledecky has 10 medals total but could add to her collection in the future.
"That was not my last swim," she said after the race, in regard to further Olympics. "I'm at least going to '24, maybe to '28, we'll see. I just knew it was my last swim here."
In the women's 200 backstroke, Australia's Kaylee McKeown won the gold medal to sweep the women's backstroke events in Tokyo. The United States' Rhyan White and Phoebe Bacon placed fourth and fifth, respectively.
In the inaugural mixed 4x100m medley relay, the Americans went with a lineup of Ryan Murphy (backstroke), Lydia Jacoby (breaststroke), Torri Huske (butterfly) and Dressel (freestyle). Although Murphy gave the U.S. a big lead in the first leg, the Americans fell behind as the race went on. Jacoby swam admirably despite her now-famous pink goggles falling off her face.
Great Britain won gold, while China took silver and Australia took bronze. Team USA finished fifth.
4) Water Polo: Team USA Takes on Hungary
The offense for the U.S. men's water polo team went silent early in the second half, leading to an 11-8 loss to Hungary.
The U.S. led 4-3 in the first half but then allowed six unanswered goals by Hungary. That scoring drought ended with Alex Obert's goal that pulled the U.S. within 9-5 with 6:20 remaining. Luca Cupido followed with a goal on the ensuing possession to make it a three-goal game.
A goal by Hannes Daube with 3:08 remaining cut the deficit to 9-7, but Krisztian Manhercz answered with a goal to push the lead back to three and all but seal the victory.
Manhercz had a game-high three goals. Bowen and Ben Hallock each had two goals for the U.S.
With both Group A teams having previously qualified for the quarterfinals, but with seeding still on the line, the U.S. fell to 2-2 and Hungary improved to 3-1.
Team USA is led by Jesse Smith, a Coronado resident and five-time Olympian. In a true show of leadership, Smith gave up his spot at the Tokyo Olympics Opening Ceremony last week so that younger players on his team could experience the moment. You can read more about that here.
Smith was also recently on our Olympic Dreams: San Diego to Tokyo podcast, speaking to NBC 7's Steven Luke about training and veteran status at the Olympics. Listen to Smith's episode here.
His teammate, Alex Bowen, is a Santee native and Santana High School alum -- where his dad was his coach. It's his second Olympics and he brings hard shooting and powerful scoring to his team.
The quarterfinals start on Aug. 3.
5) Baseball: Team USA vs. South Korea
The United States baseball team won Group B with a 4-2 victory over defending Olympic champions South Korea on Saturday at the Yokohama Stadium in Tokyo. The U.S. will now face host nation Japan in the next stage.
Both teams entered Saturday's contest with 1-0 records in the Olympics after defeating Israel in their series openers.
The Team USA offense was stifled by South Korean starter Ko Young-pyo through three innings before Boston Red Sox prospect Triston Casas belted a two-run homer to take the lead in the fourth inning.
The Team USA roster blends experience with promise. Todd Frazier, Scott Kazmir, Edwin Jackson, Anthony Gose and David Robertson bring MLB experience, while Triston Casas, Simeon Woods Richardson and Shane Baz are promising prospects. Another U.S. star is infielder Eddy Alvarez, who has already been under the Olympic spotlight in Tokyo as one of the American flag bearers for the Opening Ceremony.
The Team USA baseball roster also includes a couple of players with local ties: San Diego native Nick Allen – an alum of Frances Parker High School. Allen, an infielder and one of the Oakland' A's top prospects, was a part of the qualifying team that went a perfect 4-0 to earn a spot in the Tokyo Olympics.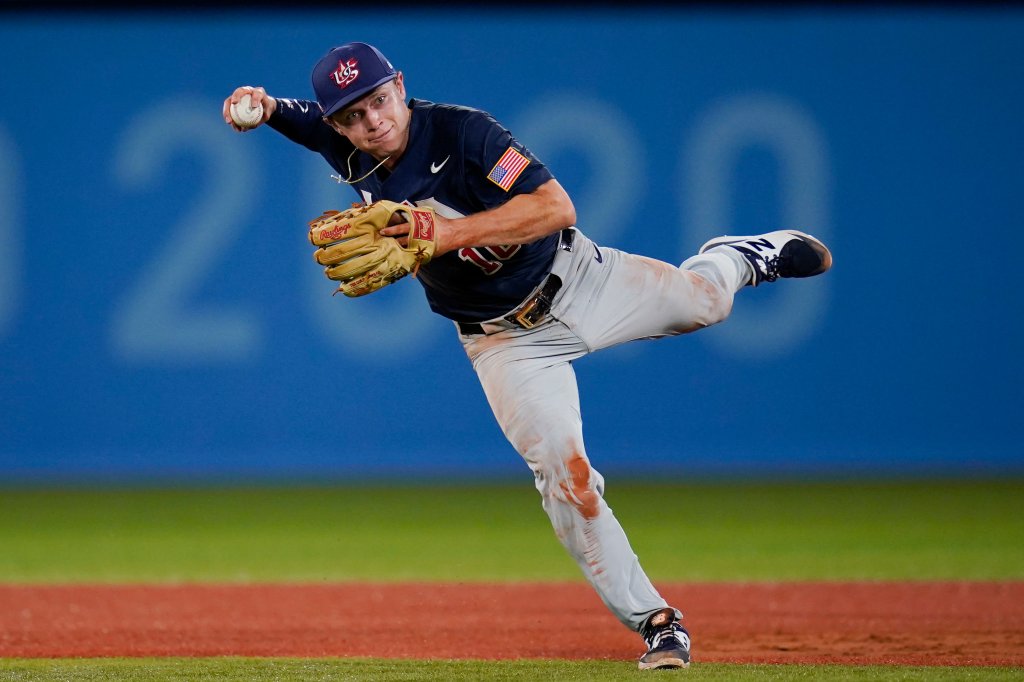 There are also a few players on the Olympic team who have played for (or were connected to) the San Diego Padres in different capacities over the years: Patrick Kivlehan; Tim Federowicz; Edwin Jackson. You can read more about those ties here.
Baseball was a demonstration sport in six Olympics before gaining full-time status in 1992. The sport was then voted off the Olympic program for 2012 and 2016 before being brought back for the 2020 Games. It will be removed from the 2024 slate in Paris, but it could return for the 2028 Games in Los Angeles.