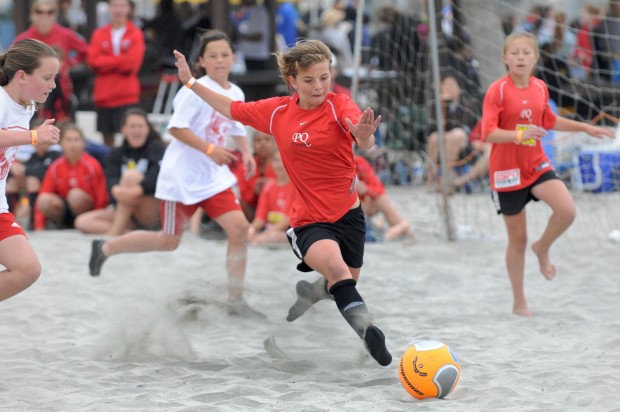 More than 25,000 people are expected to descend on the Oceanside Harbor this weekend for a ramped-up version of beach soccer played by professionals from around the world and dozens of local youth soccer teams.
Soccer in the Sand, a two-day event considered a worldwide premier event, is a small-sided 5v5 soccer tournament played in the sand.
"The goal is to keep the ball in the air more than in traditional soccer because you're playing in sand," director of the California Welcome Center Oceanside and a soccer mom with two boys who play the game, Leslee Gaul, told our media partner the North County Times.
SportsWrap
The top sports headlines of the day
"It tends to be a lot more exciting," said Gaul, whose 10-year-old son will compete in this year's tournament. "The pace is faster, the games are higher scoring."
"That's the whole idea," said tournament director Marc Koehler, who brought beach soccer to Oceanside four years ago.
Koehler said he was looking for a way to keep kids interested in sports and to put the fun back in youth sports when he stumbled upon beach soccer.
Since then, the event has become a full-scale free festival at the harbor with live music, Samba dancing and plenty of food vendors, Koehler said.
The professional side of the tournament ---- the West Coast Beach Soccer Championships -- will feature eight teams including players from Senegal, Japan, Brazil and members of the U.S. national team, Koehler said.
The beach game is played with teams of five instead of the normal 11-member teams. The sand field is shorter and narrower than traditional grass fields and the game is faster with three, 11-minute periods instead of the two 45-minute periods of traditional soccer, Koehler said.
Because of the shorter field made of sand, passing can be a bit of a challenge. Also, there are far more shots to the goal and more shots getting through, Koehler said.
City officials are delighted with the money the event is pumping into the local economy. "All the hotels are filled or booked," said Councilman Jerry Kern. "It probably means at least $2 million for our economy if you take total spending."
Games run from 8 a.m. to 5 p.m. Saturday and Sunday. This year, 302 teams will compete in the amateur side of the tournament, including 35 from Oceanside. Every team is guaranteed three games and plenty of opportunities for all team members to get a shot at the ball.