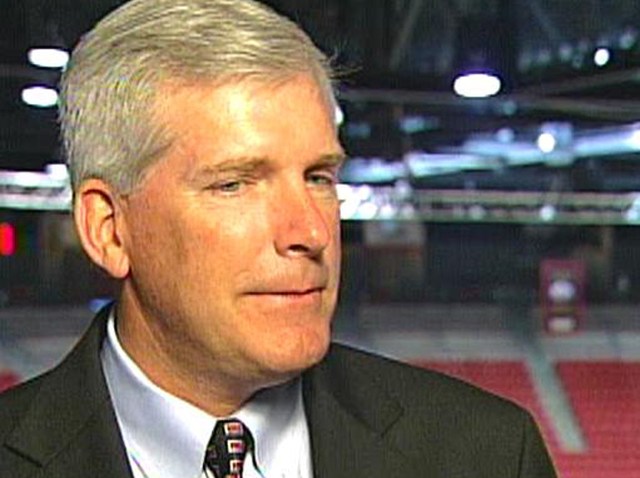 San Diego State's embattled athletic director stepped down on Thursday, according to campus officials.

School authorities discussed Jeff Schemnel's status at a morning news conference at the Parma Payne Goodall Alumni Center on campus. Officials said that there is an agreement in place to give Schemmel a lump sum payment of $116,000, to be paid by a variety of funds not connected with state funding.

The school investigated Schemmel's travel expense records after the San Diego Union-Tribune inquired about an attempt to subpoena the records as part of an Alabama man's divorce proceedings. John David Lineberger's wife, Carolyn, testified in a deposition that she met Schemmel for multiple trysts in the Dallas-Fort Worth area, and Point Clear, Ala., the paper reported.
Carolyn Lineberger also testified that Schemmel told her he had no university business in Point Clear except to see her. But his travel records showed he requested university reimbursement for the rental car and gas he used to drive 330 miles from Atlanta to Point Clear to see her in January, the newspaper reported.
---
SportsWrap
The top sports headlines of the day
619Sports.net got an interview on Thursday with Schemmel's interim replacement, Don Oberhelmen
---
Later in the day, Schemmel released a statement through SDSU.
"My decision to resign was agonizing and based solely on concern for my wife and my family and the continued public scrutiny of our private lives We have done much and are moving in a great direction at San Diego State. The program is in excellent shape with very good people in place. Those that I have worked with both inside the department and outside the university are the very best I have ever been around, and I'm appreciative of the opportunity to work at such a great institution. I am proud of what we have accomplished here in a relatively short period of time, and I will continue to stay close and help however and whenever I can."

Schemmel took over at San Diego State in July 2005. Previously in his career, he was a practicing attorney, directed a Final Four tournament, and was a senior administrator at Big 10 and Big 12 schools, according to SDSU's Web site.
Schemmel his been married to his wife, Lori, for 31 years, according to school officials. The couple have two sons.
Copyright AP - Associated Press