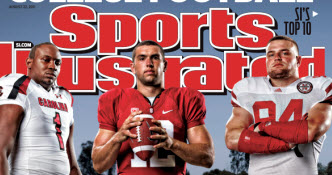 Get ready to hear the name Andrew Luck a lot. The Stanford quarterback will hopefully be one of the feel good stories of the fall.

His storyline began last January when he surprised the sports world and announced he would return to the college gridiron for his senior year instead of opting to go for the NFL draft.

The decision put Luck in the early running for the Heisman and his team in the top rankings when it comes to competing for a national championship.

Add to that, the fact that his photo is going to be on the cover of this week's Sports Illustrated magazine.

SI's annual College Football preview hits newsstands Wednesday and the magazine thinks Luck's story is a good one.

SI is ranking Stanford No. 4 in the country in its pre-season rankings and Luck is a big reason for the high number.

Last season Stanford finished 12-1 and Luck deserved much of the credit.
Here's hoping for a great season down on the farm in 2011.