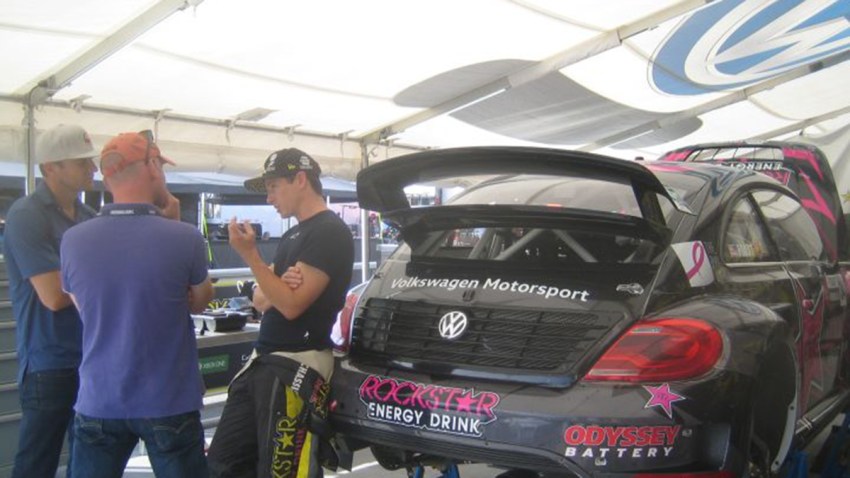 Red Bull Global Rallycross Supercar driver Tanner Foust was poised to win the series championship before Sunday's final in Los Angeles. After finishing second to his Volkswagen teammate Scott Speed on Saturday, Foust lost his lead in the points total when he finished fourth in Sunday's final of the doubleheader.
Still, the veteran driver had one of his best seasons in the last several years.
He placed first in four out of 11 races and was at the top of the points board for much of the season. Foust last won the championship in 2012.
SportsWrap
The top sports headlines of the day
Despite being so close to victory, however, the veteran preferred to remain cautious.
"It's kind of bittersweet," he said on Friday of being in first going into the final. "Anything can kind of happen. You can be first into the first corner, and everybody decides to go … and blast you in the back end and put you in a wall, so maybe first isn't the best place to be sometimes."
He said his Volkswagen team has come a long way from the VW Polos they were racing two seasons ago. The Beetle has been upgraded with a 2-liter engine instead of a 1.6, they've changed some of the suspension geometry and the shocks to be more like World Rallycross shocks and they've set the Beetles up to be more like road race cars.
Now in his third season with Volkswagen, Foust says he's feeling comfortable.
"I think we've done great things with the brand, especially in a time when the brand has gotten so much negative press from the general media, we're one of the few positive things they can hang their hat on and so that makes me pretty proud."
This weekend Volkswagen and the Beetle, painted pink, promoted the Pink Agenda, which raises awareness about breast cancer.
Beyond racing, Foust always stays busy. A host of Top Gear on History and a stunt driver for films such as Fast &Furious and The Bourne Ultimatum, the race car driver continues to build his brand.
He's executive producing a new show called 'Motorclub', which chronicles the lives of race car drivers. The show is scheduled to premiere on October 20 on NBC Sports Network, and will feature drivers such as Travis Pastrana, Bucky Lasek, Brian Deegan, Scott Speed, Ken Gushi as well as Foust himself.
But he isn't limiting himself to the ground.
"I just got my pilot's license, which was a goal, really a lifelong goal," he said. "When Top Gear stopped filming in February I started training and I got my license a few months ago."
While flying is just for fun he explained, "it is nice to get places faster."
Foust said he flew teammate Speed up to Willow Springs Raceway Wednesday from Orange County.
"He hated it!" Foust laughed about Speed. "Oh my gosh, he was the worst passenger ever. But we made it."
After this weekend Foust races in Germany for World Rallycross, and then he said he'll start thinking about next year.
He said he plans to do some more stunt driving for films, but would like to be able to go home occasionally.
"I moved in a couple years ago, and I've been there six days," he joked about his newly built Newport Beach home. "It's near the harbor, and I have a boat and I get some time out in the ocean and it's a good place to live so it'd be nice to take more advantage."
As far as his immediate future, Foust said all he can do is learn from the past and "remember not just what you did wrong in the car, but what happened in your head that led you to that mistake."
He says instinct can get people into trouble when they're driving, and it's all about focusing on what went right and wrong before. "We're not born drivers," he said. "Virtually everything we do with driving is kind of counter-intuitive… It is better to have a sequence of events, a breaking mark … rather than just letting your instincts take over because they'll usually drive you in the wrong direction…with driving – not necessarily in life."