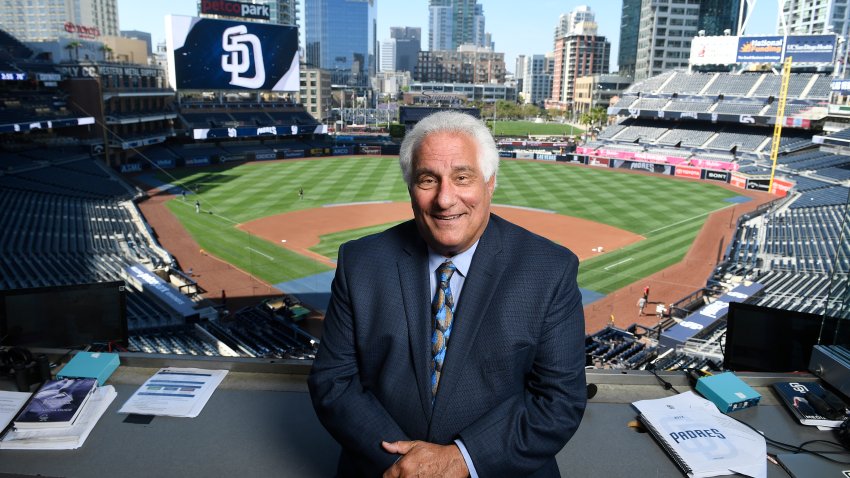 For 41 years, Ted Leitner has been the play-by-play voice of the Padres. Generations of Friars fans have grown up hearing his calls on warm San Diego summer nights.
Alas, all good things come to an end.
The 2020 season was Leitner's last in the broadcast booth. In 2021 he's transitioning to a new role with the organization, serving as a team ambassador. "Uncle Teddy" will handle speaking engagements and community events as the master of ceremonies.
"I will miss everything about the Padres broadcast that I have been privileged to be a part of for so many years," said Leirner in a statement. "I've had the best seat in the house in San Diego for over four decades, and I've had the honor of working alongside Hall of Fame broadcasters while watching the greatest players ever to wear a Padres uniform. While the broadcast booth will always be in my heart, I look forward to working more closely with the San Diego community and our loyal fans in the future."
Jesse Agler, who shared time with Leitner the last few seasons, takes over as the main play-by-play voice while Tony Gwynn Jr. assumes the role of full-time color analyst for games on 97.3 The Fan.
Leitner's love for San Diego and the Padres came through in every game he ever called. To borrow one of his signature lines ... during his 41-years on the mic Ted ca-rushed it.
LISTEN: With NBC 7 San Diego's Darnay Tripp and Derek Togerson behind the mic, On Friar will cover all things San Diego Padres. Interviews, analysis, behind-the-scenes...the ups, downs, and everything in between. Tap here to find On Friar wherever you listen to podcasts. 
SportsWrap
The top sports headlines of the day