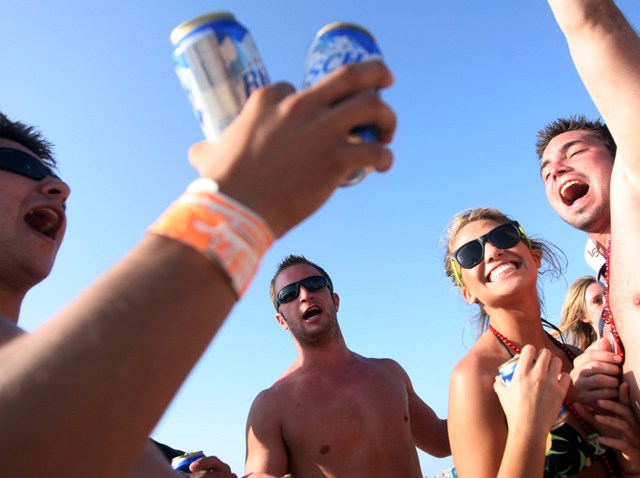 "Over-the-Line" is not for your parents, your kids or the feint of heart and even though participants insist OTL is all about fun, few would describe it as "good, clean fun". It's "part sport, part party" and it dates back more than 50 years.
Thousands will flock to Fiesta Island for the Over-the-Line Tournament Saturday. The fun started at 7:30 a.m. and goes until dusk. OMBAC expects nearly 50,000 spectators to arrive over the course of the two weekend tournament, said spokesperson Sonny Petersen.
This year more than 1370 teams have entered the tournament, Petersen said.
SportsWrap
The top sports headlines of the day
If you aren't familiar with Over-the-Line Tournament, it began when a group of young guys hanging out at Mission Beach couldn't find enough other guys to play a game of baseball so they invented O.T.L., which requires only three members on a team. Those same guys are still at it today, if not playing, then as members of OMBAC, which stands for the Old Mission Beach Athletic Club.
Over the years, as more people got into this variation of softball played on the beach (and even more turned out to watch), OTL just sort of grew, turning what started as a fun little game into a giant drunken beach party with baseball more an excuse than the main event. It got so big that finally the tournament was moved from Mission Beach to Fiesta Island and it got so bad that police finally stepped in and forced organizers to clamp down on the nudity and rowdiness or face cancellation.
These days, with hundreds of teams competing from all over the world, (and the beer and bawdiness confined and controlled) the event is held over two weekends with the really serious contenders battling it out for a trophy and bragging rights on the final day.
Petersen says there is nothing new to it, just the same old fun.
The beach booze ban is still in effect during the tournament, attendees will only be able to drink alcohol in certain areas. Alcohol will be allowed in all playing areas and motorhome parking lots, Peteresen said.
If you plan on going, OMBAC will be providing shuttles to and from Fiesta Island. Once the island reaches capacity, Petersen says the city will shut the gate to the island blocking any more cars from entering.
The tournament is over the course of two weekends July 10, 11 and July 17, 18.
Shuttle Bus Routes (runs from 7:00 a.m. - 7:00 p.m.)
Route 1) South Mission Beach - Bus stops at the west end of the Bonita Cove parking lot across form the Bahia.
Route 2) Linda Vista Trolley Station on Napa Street.
Route 3) Entrance to Fiesta Island.