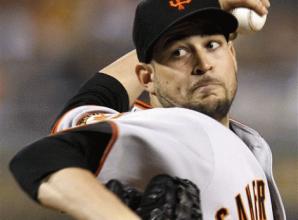 Last Sunday, Giants starter Jonathan Sanchez guaranteed San Franciso would sweep San Diego this weekend, take over first place and never look back. He was wrong on all three counts.
The Padres took game one on Friday night, a 3-2 win in which San Diego beat Sanchez for the third time this season. This time Clayton Richard got him with six solid innings to earn his 10th win of the season. Richard is the third Padres starter to reach double figures in the win column. The Padres pump their lead over the Giants to 3 1/2 games in the National League West, so the only thing guaranteed is San Diego will leave the Bay Area on Sunday still in first place.
But, let's not stop there. On Saturday Mat Latos takes the mound. The kid is one of the hottest pitchers in baseball, and in his last start in San Fran he was an infield single away from a perfect game. All of a sudden the Giants are not only not going to sweep, but there's a very good chance they won't win the series. Of course, that's not surprising.
SportsWrap
The top sports headlines of the day
The Padres have won 8 of the first 9 meetings between these teams in 2010. One more victory and they'll guarantee at least a season split of their series. I can guarantee Giants manager Bruce Bochy will guarantee his team will issue no more guarantees. Especially not from .500 pitchers with mouths bigger than their brains.