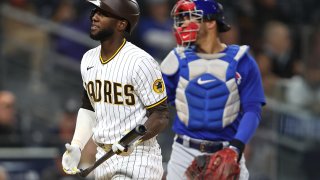 A grueling 20-day stretch ended on a down note. Now the slumping Padres have a list of issues that one day off can't fix. Derek and Darnay take a look at their offensive issues, Hosmer's struggles, lack of productivity from reserves, and share some lineup thoughts.
Derek has a player at the top of his wish list come the Trade Deadline, plus a couple others who could make an impact. This week's Three Up, Three Down features Blake Snell, Jayce Tingler, Joc Pederson, C.J. Abrams, fans at Petco Park and more.
LISTEN: With NBC 7 San Diego's Darnay Tripp and Derek Togerson behind the mic, On Friar will cover all things San Diego Padres. Interviews, analysis, behind-the-scenes...the ups, downs, and everything in between. Tap here to find On Friar wherever you listen to podcasts.