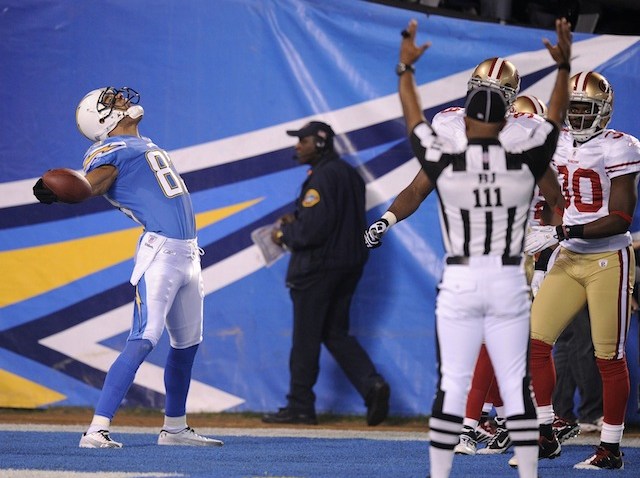 Thirty yards downfield, Chargers wide receiver Vincent Jackson put his left and then right hand on 49ers cornerback Nate Clements.
Finally, Jackson was holding the lucrative contract he desired.
He released it to make a play.
SportsWrap
The top sports headlines of the day
Setting aside a contract dispute that cost him 10 games and millions of dollars, Jackson out-jumped Clements for the catch and outran and out-muscled him to the end zone, the first of a career-high three-touchdown game on Thursday night. The 58-yard first-quarter grab looked easy, and, thanks to a defense that nearly earned its second consecutive shutout, so did the rest of the San Diego's 34-7 tromping of San Francisco at Qualcomm Stadium.
Money Can't Buy Height
In 2007, Clements became what was then the highest-paid defensive player in NFL history, signing an eight-year, $80 million contract that included $22 million in guarantees.
This year, Jackson, who had five catches for 112 yards, is being paid well short of $300,000.
The dollar signs didn't matter with the football spiraling to its descent. It was the 6-foot-5 Jackson versus the 6-foot Clements. He has won these battles before.
"Since I've been here, it's been like I never left," said Jackson, who reported on Oct. 29 and has played in three games this season. "The guys have not been worried about my mentality, how I was going to come in -- my approach. I've been excited to play football since I stepped back in the facility, so I wouldn't say I'm surprised by my impact. But I am very happy that I am able to do it."
The defense was happy about its performance, too, if not a little bit frustrated toward the end.
The Chargers (8-6) were four minutes and 26 seconds shy of posting back-to-back shutouts for the first time in franchise history. The unit found numerical consolation with six sacks, an interception and allowing only 192 total yards and seven points to a team that scored 40 points on 336 yards four days earlier.
It also tied a franchise record with seven consecutive scoreless quarters, dating back to Sept. 11-Sept. 17, 2006, against the 49ers and Titans.
"No shutout. A great, great win though," said defensive end Luis Castillo, who had a sack. "It's so easy to go out there and play defense, and have fun when the offense is rolling like they are. Everything we do, we give them so much credit."
Brandon Siler received some credit, too, for keeping the 49ers shut out for so long.
In the first quarter, a 15-yard penalty on nose tackle Antonio Garay for leverage preserved a 49ers drive that would have otherwise ended on a converted field goal.
Two plays later, quarterback Alex Smith's 7-yard touchdown run was initially ruled good, but the call was overturned on Chargers coach Norv Turner's challenge. On fourth down, Siler sprinted through an inside gap and stopped running back Anthony Dixon for a 2-yard loss.
In five play, the 49ers went from trailing the game 7-3 to being tied 7-7 to turning the ball over on downs, back in its original 7-0 hole.
"It was the turning point of the game," safety Steve Gregory said. "It gave us all the momentum."
During his contract dispute, Jackson said he usually spent his NFL Sundays in front of a television. This weekend in San Diego, all eyes will be in St. Louis.
The Chargers will lead the AFC West for the first time all season if the Chiefs lose to the Rams on Sunday.
"I'm going to watch whatever game is on my cable TV," safety Eric Weddle said. "We just have to worry about we have to do and everything will fall into place."