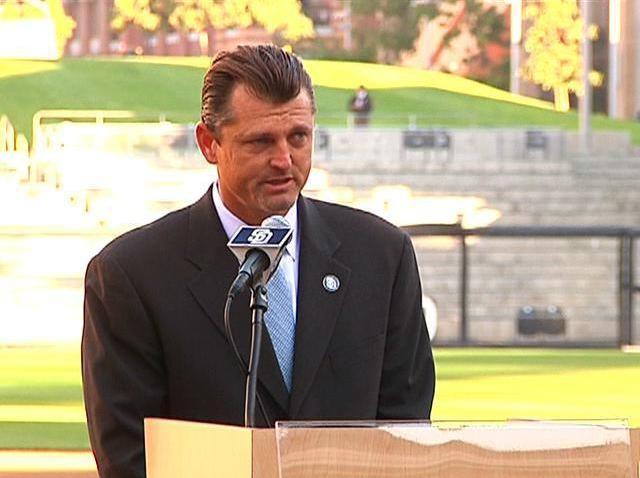 Trevor Hoffman can be sitting in his living room, watching a football game, minding his own business. Then he hears ACDC's "Hells Bells" playing over the stadium's speakers, and it all starts over again.
The shot of adrenaline. The urge to pitch.
One day after announcing his retirement, the long-time Padres closer reflected on his 18-year Hall of Fame career Wednesday morning at Petco Park. Among the topics, baseball's all-time saves leader shared his gratitude, future career plans in the Padres front office, and his response anytime he hears the ominous bells that open his walk-out song.
SportsWrap
The top sports headlines of the day
"I don't know if anyone else thinks about it, but I'm like Pavlov's dog," said the 43-year-old Hoffman, who will join the Padres in an undefined role in 2011. "I feel like I need to start running on some grass and go on a baseball mound. It's been something that's been pretty unique."
A converted shortstop, Hoffman joined the Padres midseason in 1993, became their full-time closer in 1994 and, before signing with the Milwaukee Brewers after the 2008 season, emerged as a San Diego icon. He totaled 552 of his record 601 saves in his 15 1/2 seasons with the Padres.
The classic-rock entrance song began in 1998, becoming synonymous with a Padres victory often ending with a devastating changeup — Hoffman's out-pitch. Hoffman totaled a career-high 53 saves that season, and the Padres made their first World Series appearance since 1984.
The Bellflower, Calif. native said his retirement will leave a void of teammate camaraderie, but working with the organization will help fill it.
He added he was "thankful" for his teammates and the relationship with San Diego fans.
"It was a connection," Hoffman said. "It wasn't something where I shied away from contact with them. I engaged genuinely because this is the place I lived in, and I understood the culture that we lived in here."