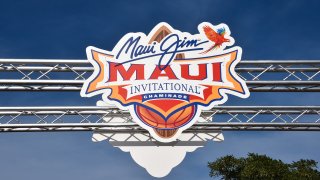 Perfection in Paradise!
Neither San Diego State nor Ohio State had lost a game before they played against each other in the first round of the Maui Invitational. Both teams were 3-0, and seeking to keep their unbeaten season going.
When the game was over, only the Aztecs were still perfect.
San Diego State beat Ohio State 88-77 in Lahaina, improving to 4-0 on the season.
Four different Aztecs scored in double figures, led by Matt Bradley with 18 points. As a team, the Aztecs shot 50% from the field and 47% on 3-point attempts.
After falling behind early, San Diego State rallied and led 37-26 at half.
SportsWrap
The top sports headlines of the day
In the second half, the Aztecs extended the lead to 15 points, but a Buckeye rally closed the gap to just 4 points with 13 minutes to play.
SDSU would not give up the lead though. Micah Parrish hit back-to-back 3-pointers to push the lead to double digits again.
Next up, San Diego State plays the winner of Arizona vs. Cincinnati on Tuesday.