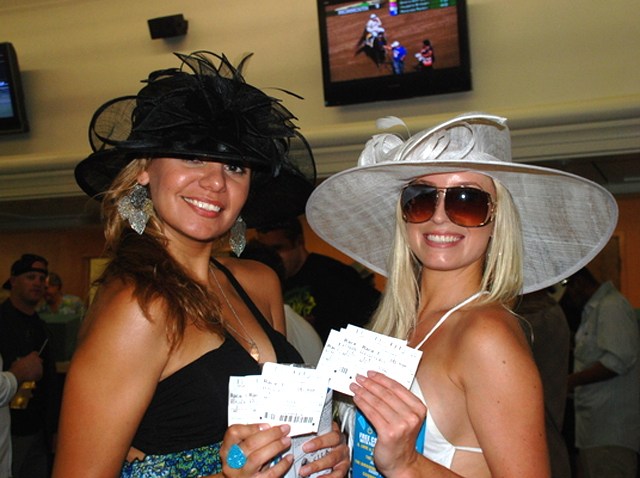 Trainers and jockeys were up with their horses before the sun came up preparing for opening day in Del Mar.
Trainer Peter Miller lives in Carlsbad. He's been working with horses since he was a kid and his track record is impressive. In the past 3 years he's trained 8 winners in Del Mar's opening week. He was up at 4:30 a.m. getting ready for the day.
"It's a lot of work but it's a labor of love and everyone involved really loves it," Miller said.
SportsWrap
The top sports headlines of the day
If you're going to place a wager -- here's what he says to look for.
"If they're nervous or sweaty, you might not want to bet on them. You might want to look for a horse that looks confident and composed and healthy," Miller said.
And the big question is will the undefeated horse Zenyatta race this season here at Del Mar?
"Well she races tomorrow morning and if she goes well I think there's a big, big chance she'll be here," said jockey Mike Smith.
Smith has ridden Zenyatta in 14 of the 17 races she's won.
"Well you know she won here last year so to come back to do it again would be incredible. That means we'd won 18 if we can do it," Smith said.
And he says the pressure is on to win -- but racing any 1,200-pound animal at top speeds can be stressful.
"They can go from zero to 40 in literally three strides so it's pretty amazing," Smith said.
He has 5 mounts on opening day and said he's thrilled to be back at Del Mar.
"It's the greatest place to race this time of year. There's no place like it. It's incredible," he said.
More than 40,000 racing fans are expected to show up for the fabulous fashions, fun and races.
This year's One and Only Truly Fabulous Hats Contest kicks things off with possibly the race's biggest draw, the annual hat contest. Women and men alike will be donning the latest in haute hats, with the most creative and stylish taking home just some of the prizes.
Hoping to take home a prize of their own at this year's races are jockeys, horses and those watching to see who wins. Get details on tickets and betting online here.
Friday nights (and some Saturday nights) at the track won't end with the races , though: Pinback, the B-52s, Weezer and ZZ Top, among others, are going to be performing live for Del Mar's 2010 Summer Concert Series. Tickets to the shows are free with track admission but can be bought for $20 otherwise.
Back for another round this year is Miss Cougar Del Mar, a beauty contest for what organizers call "mature women who pursue younger men." Cougars all over San Diego have until the July 23 to enter online, and fans can cast a vote until July 28 for their favorite mature model. The winner will be announced on-track, July 30, before the Cougar II Handicap race.
Don't let the fancy hats, "beauty" contest and upper-class feel fool you, though: There's plenty of free and cheap exclusives at this year's races. First up is Free and Easy Wednesdays where Diamond Club members (a sign-up-free program) will get a Stretch run admission, program, seat and half-price beer all free of charge.
Kids get free admission, and adult tickets only cost 6 bucks on Family Sundays, which is also going to have more than 10 free activities for the whole family to enjoy. On top of that, there will be thousands of dollars in giveaways and prizes during the entire racing season.
The concerts, contests, giveaways, and horse races run through Sept. 5. For more info, head over to Delmarscene.com. The track is closed Mondays and Tuesdays, though, with the exception of Labor Day.